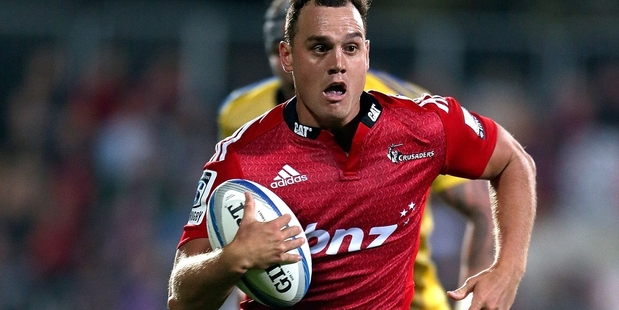 Hawke's Bay's All Black fullback Israel Dagg knows the importance of focusing on one game at a time.
Five years into his international rugby career it's no doubt more important this season than previously for the Lindisfarne College product. Such is the quality of competition versatile Highlander Ben Smith is providing as the pair jostle for the No15 jersey.
But Dagg couldn't subdue his excitement as he pondered the All Blacks' Investec Rugby Championship clash against Argentina at Napier's McLean Park on September 6. Everything going to plan, and it will be a shock if he isn't named in the ABs Championship squad on Monday, it will be Dagg's first match for the All Blacks on home turf and the first occasion both of his grandfathers, former Magpies and Otago rep Pat Dagg and Henare Nukutarawhiti, attend one of his ABs tests.
"It's going to be pretty awesome in my own backyard and in front of the grandparents," Dagg said this week before again stressing the importance of taking each step at a time and "not worrying too much about what's happening later in life".
That wasn't a surprise considering his Crusaders are taking on the Sharks in a Super Rugby semifinal in Christchurch tonight. Like fellow All Blacks Kieran Reid and Dan Carter, who are both starting tonight, Dagg missed the May 17 clash against the Sharks at AMI Stadium which was lost 30-25.
The only Magpie remaining in the Super semifinals, Dagg, 26, said the Crusaders' intense training sessions during the past fortnight reflected the high disappointment levels experienced after that loss.
"Hopefully we can execute in the way we want. We've worked pretty hard on defence. Good defence and being well disciplined will get us the win ... we can do it," Dagg said.
He understood why a big emphasis had been placed on the battle of the packs, which had the potential to be a brutal affair.
"The boys have to do the hard work up front before we get the ball out wide. When we do it's important we treat the ball like gold otherwise the forwards will be grumpy," he said.
Dagg has plenty of respect for Sharks winger JP Pietersen and the versatile Patrick Lambie, who has been named at first five-eighth which forces Frans Steyn out to second five-eighth where he will mark Carter.
In another change, Sharks coach Jake White has replaced injured lock Anton Bresler with Willem Alberts and Jean Deysel replaces Albert at flanker. Deysel, on the bench in Durban last weekend, was red-carded for stamping on Jordan Taufua in Christchurch last time out.
"The Crusaders are a phenomenal team, we're under no illusions of how good they are and what they've achieved, but we just have to prepare as best we can to give ourselves a chance," White said.
"They have players in their team who won the Rugby World Cup a few years ago, they have guys who are consistently in playoff games, the team hasn't missed out on playoff rugby in a long time, and all these guys have been part and parcel of playoff games, so I have no doubt that with the team they have available ... they'll be a massive force."