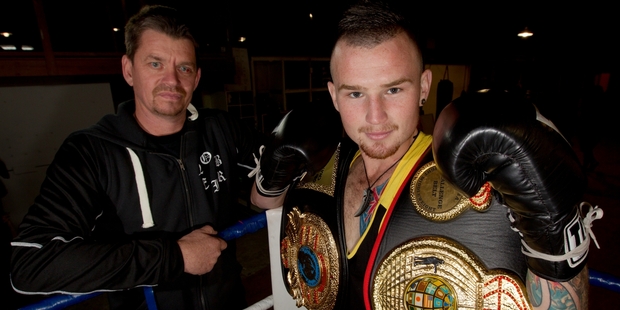 Hawke's Bay boxer Beau O'Brien owes his partner Lisa Timu a substantial 21st birthday present but a win in China on Saturday night will suffice.
"I'm supposed to be having time off with Lisa in the buildup to her 21st next week because I've been training my arse off for the last two-and-half years. But when this opportunity came up Lisa was really understanding and told me to take it ... it could open a lot of doors for me internationally," O'Brien explained.
The Napier Boxing Club fighter will take on China's "home town favourite" Kuok Kun Ng in the opening fight at Champions of Gold in Macau's Cotai Arena, a venue which has been described by O'Brien's trainer Rod Langdon as "the Las Vegas of Asia."
"We heard about the fight five weeks ago. We still don't know if it will be four rounds or six rounds ... but I'm picking it will be pretty even. We're the same age [23], same height [1.73m], same weight [69.8kgs] and both undefeated in the professional ranks although he has fought in a higher pool of fish than me," O'Brien said.
A Napier lawnmowing contractor, O'Brien has had five professional fights and holds the New Zealand Professional Boxing Association's light middleweight title as well as the Global Boxing Federation's Oceania Light Middleweight title.
"There's a bit of prizemoney at stake but the big plus was the fact the organisers paid the return flights for both Rod and I. This is like a dream come true for me ... I understand the event is being televised and hopefully this experience will lead to me becoming an endorsed fighter so I can train fulltime," O'Brien, a father of two daughters, said.
"It's going to be amazing just to be part of the atmosphere. Once my fight is over I will be able to take it all in while I watch the others.
"This is another first for me. I was the first to fight in a professional boxing bout in Taradale's Pettigrew-Green Arena and I think I'm the first Kiwi to fight at this venue," O'Brien, who has stuck to a strict diet of chicken and nuts in recent weeks in an attempt to meet the weight limit," added.
Langdon pointed out Kun Ng's camp came hunting for O'Brien.
"They were looking for a credible opponent but at the same time someone they think they can beat. Kuok has had two wins by knockout and will be tough to beat, but we're ready," Langdon added.
Two-time Chinese Olympic gold medallist and national icon Zou Shiming and undefeated unified junior featherweight world champion and Cuban sensation Guillermo "El Chacal" Rigondeaux will headline Champions of Gold.
O'Brien and Langdon travel to Macau today.