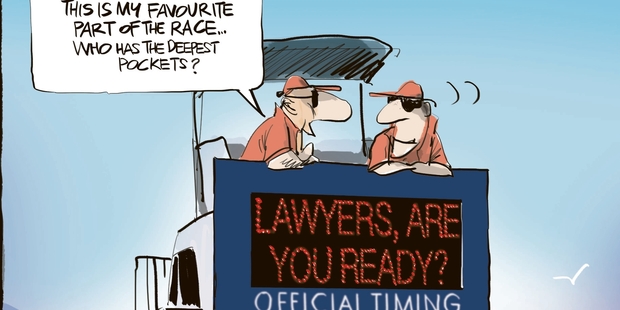 The begging bowl is out but if you look closer this receptacle is encrusted with $2 million worth of gems and precious stones.
Once the hard-earned taxpayers' money is chucked into that bowl, it'll become a floating paradise worth at least $100 million when it hits some unsuspecting waterfront in 2017.
If allowed to drift of its own accord, this groaning vessel is on course to submerge under its own crushing weight of expectation.
It's no wonder Team New Zealand head honcho Grant Dalton sent out an impassioned plea, only days before his $2 million pay cheque for last year was disclosed, revealing the yachting franchise's piggy bank would have a hollow ring about it by the end of this month.
Oops, false alarm. As it turns out, director Sir Stephen Tindall has since verified they'll survive on bread and butter until at least January so, people please, prepare to dig deep.
In what sounds like Dalton and Team NZ crew's defence, Economic Development Minister Steven Joyce reportedly said had they not commanded such exorbitant salaries then this country would have faced a similar scenario to when former skipper Sir Russell Coutts and tactician Brad Butterworth disappeared "into the wild blue yonder" at the end of the last century.
Does that imply Dalton and Co also have the propensity to hold a gun to the collective heads of this nation if the Government doesn't give in to their demands?
Surely not, because this is what Dalton had said to me at Napier Sailing Club in May 2011, when on his pilgrimage to the grassroots of New Zealand's centres that supposedly prop up a mega-bucks industry before the exhilarating San Francisco campaign last September.
"Some of them defected, some of them came back and some of them we won't take back even if they wanted to," he had revealed, in reference to New Zealand probably never seeing the heady days of 1995 (Black Magic) and 2000 (successful defence and impending defections) ever again.
Dalton had put it down to the end of "an era of innocence".
But everyone knows in the fiscal world the winds of change can be equally fickle.
Admittedly, Dalton's timing in the run for the $36 million of taxpayers' money in 2011 was as poor as New Zealand Warriors import fullback Sam Tomkins.
Dalton was on a collision course, with the 2011 Rugby World Cup already in arrears of half a billion dollars.
"As sensitive as the next guy", a hard-nosed Dalton had accepted it wasn't just in the face of the Christchurch earthquake but also the Pike River mining disaster.
Let's face it. Yachting in New Zealand is unlikely to return to the lucky red socks days of the late Sir Peter Blake.
"You are either for it or against it because you're not really in the middle," Dalton had said, curious as to what level of support they were likely to garner for the 34th cup.
As it turned out, many, including the nautically challenged, predictably got on board towards the end of their campaign.
The reality is the masses are more discerning, especially if the money is beyond their comprehension, let alone grasp.
It can be difficult for people to think big when the so-called benefits of the Auld Mug champion intangible gains such as global marketing.
After all, in his 2011 visit, Dalton did say: "The strongest brands in New Zealand industry - and it's not Fonterra because if you're from Germany you've never heard of them - are the All Blacks and Emirates Team New Zealand.
"We try to get the results and try to do our brand job correctly with the silver fern and the word New Zealand but, ultimately, what we can do best is to bring the cup home."
They didn't, in what the world perceived, rightly or wrongly, as one of the biggest chokes in sporting history.
Does that make Dalton a prophet of false economy?
The word is Team Oracle USA have, within the ambit of cup rules, already changed the template of competition on what has essentially become a playground for big boys with toys and lawyers lining the pockets of their double-breasted Armani suits.
As fiscal minnows, what chance do Team NZ have of lifting the Auld Mug?
Sure the boat-building and related industries will join the food chain in Warkworth but will that trickle down to Port of Napier, let alone Invercargill?
It's easy to see why the majority feel it's another adrenaline fix for Aucklanders at the expense of the nation.
It's often said the wealth of a nation is dependent on its health and education.
My preoccupation is with sport which can kill two birds with one stone.
Distribute a percentage of Team NZ's budget to grassroots sport for a more sound investment.
A sedentary iPhone generation will not just become healthy and wise but also go on to become Kiwi ambassadors as potential All Blacks, Black Caps, Tall Blacks, All Whites, Silver Ferns or Black Sticks.
How's that for global branding and not putting all your eggs in one basket?