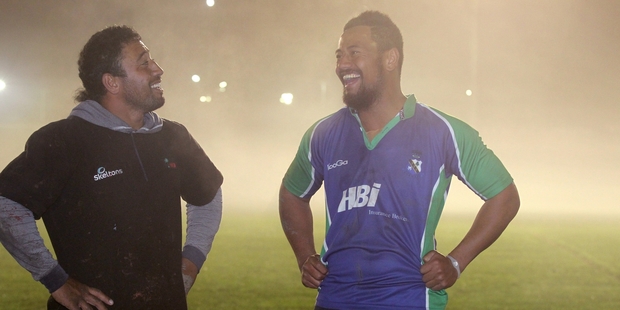 Johnny Lauano admits his older brother, Migao, is the better of the pair when it comes to forklift driving.
The pair are workmates for the Johnny Appleseed Group of Companies where Migao, 32, has had a little more experience on the forklift than his 26-year-old brother. Migao has also played 70 more games than Johnny for the Hawke's Bay Insurances Limited Napier Old Boys Marist premiers but that doesn't mean he will be able to tell his younger bro what to do when they host Progressive Meats Havelock North in a Tui Maddison Trophy second round encounter tomorrow which doubles as the feature match of the Napier club's club day at Park Island.
"It's my 100th so I'll tell Migao what to do," Johnny said with a laugh before his team's training last night.
The youngest of four brothers in a family of six children, Johnny could have joined his brother on the club's list of centurions earlier this season had he not been nagged by injuries. A broken arm restricted his Nash Cup appearances to three and then a freakish collision with teammate Mark Abbott in their loss to Taradale saw Johnny sidelined for NOBM's last two games.
Although the Tamatea High School product, who has played everywhere in the NOBM backline apart from second five-eighth, ranked halfback as his preferred position, he will start on the left wing tomorrow and his brother on the right.
With new Magpie Ellery Wilson, who will start tomorrow, and former France Sevens rep Boris Bouhraoua, who will come off the bench, ahead of Johnny in the pecking order for the No9 jersey, his versatility is likely to be welcomed further out in the backline during the remainder of the club season.
"We have to win against Havelock ... it's always better when you win on club day. But we're going to have to be at our best to win," Johnny said.
A former Hawke's Bay under-18s and under-20s rep, Johnny first played for the NOBM premiers when he was 19 and in his second year with the club's colts team. The colts won the Hawke's Bay championship that season
Although it was a 25-12 loss, Johnny ranked playing for the New Zealand Marist XV against the Heartland XV in Timaru last year as the highlight of his career to date. He intends to use the remainder of the club season to enhance his chances of Magpies and Hawke's Bay Development team selection in the future.
"We're pretty keen to go one step better than last year's second placing in the Maddison final too," he added.
Two of the villagers, prop Emmanuel Maui and halfback Isaac Paewai, will also be making their 100th appearances tomorrow.
"We're fired up to spoil Napier's club day celebrations," Havelock manager Richard Kinnear said.
His team will miss the services of English prop Miles Anderson who has returned to England for his brother's wedding. Anderson has been replaced by Hurricanes and Magpies prop Brendon Edmonds.
Lock Richard Titchborn returns to the side and Magpies winger Mikey Vuicakau will make his first starting XV appearances after recovering from an injury received six weeks ago. An indication of how serious the visitors are treating the game is the fact co-coach and former Magpie Luke Ottley will start at No8 alongside Magpie Tony Lamborn and the promising Isaiah Renata in the loose forward trio.
The Napier Old Boys Marist-Havelock North clash will be one of three feature club day battles tomorrow. The others will see Carters Frame and Truss Taradale host Tanalised Napier Pirate Rugby and Sports and Tech Group of Companies Napier Technical host Clive.
Ironically, all three hosting teams will be aiming to go two from two in the Maddison round.
Other games tomorrow will see Tamatea aim for their first win of the season when they host Northfuels Central at Bill Mathewson Park and IMS Payroll Hastings Rugby and Sports take on MAC at Elwood Park.