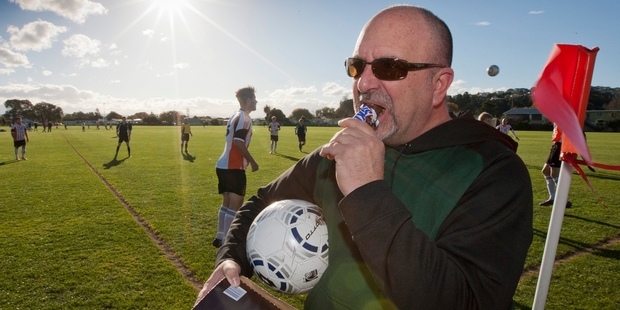 Anytime it's shaping up to be a two-horse race in a competition it's always encouraging to see a team doing their utmost to stay in touch.
Hotshots Napier Marist look promising after they pipped defending champions Your Solutions Taradale AFC 1-0 in the ComputerCare Pacific Premiership soccer league on Saturday.
"It was a pretty even game but we had two goals disallowed for offside," Marist club captain Alan Dick said after Dave Ellison struck a late winner at Taradale Park.
"I hate using cliches but Marist wanted it more than Taradale," Dick said as they sat on the fourth rung of the ladder.
Rangers 1 Rovers 2
The wind was a key factor but that didn't stop two teams from playing a "cracking game of football" at St Leonard's Park, Hastings.
Promotem Napier City Rovers came from a goal down to beat Western Rangers 2-1 to maintain their top perch in the premiership.
Rangers Jeremy Poff struck first in the 14th minute but fellow Rovers defender Regan Cameron equalised three minutes after play resumed in the second half.
The hosts conceded an own goal in the 66th minute when Poff lost possession in the Rangers' penalty box but the ensuing clearance kick caught a teammate's knee to deflect into the net for an own goal.
"I couldn't fault my lads and I'm very proud of them," Rangers coach Ritchie Howard said. He added they dominated the first spell with shots hitting the woodwork a couple of times and the keeper denied them.
"It's galling to lose a game when you're very much in it," Howard said, adding the Blues stable acknowledged they "stole it from us".
Port Hill 3 Hastings OB 0
Coach Tim Claudatos kept his promise at Marewa Park, Napier, but the schoolboys weren't having a bar of it.
AppMed House Port United pumped in three goals in the first half and then sat back for a scoreless second spell against Hastings Old Boys.
That means Claudatos' challenge of the pupils grabbing 15 chocolate bars this season will have to wait after the coach claimed they won't claim a point off anyone on the field.
Shay Wall, Magnus Hansson and Dan Thornby got on the scorecard.
"That's our first win at home so I'm pretty pleased with the boys," Claudatos said after a draw and two losses at Marewa Park.
Gisborne 6 Vale 0
It was the killing fields at St Childer's Reserve as the hosts ran riot with their young guns.
Second-placed Sunshine Brewery Team Gisborne thrashed Cru Bar Maycenvale United 6-0 although the visitors did admirably to keep the hosts at 1-0 in the first half.
Kieran Ryan scored twice while Michael Sisky, Josh Harris, Nicky Land and Caleb Duncan joined in for the party tricks.
Co-assistant coach Mark Baple said they injected youth, as they had done against Rangers the previous weekend.
"We had our 18-year-old goalkeeper, PJ Duncan, play in the last 20 minutes," Baple said, before the composite Gisborne travel to Taradale Park this Saturday.
Federation Cup
All teams, bar Gisborne and Dale, will play in the knockout competition on Queen's Birthday Monday next week.
Port Hill will play Maycenvale in the premiership on Saturday then reload for a knockout on Monday.
NOBM, Port Hill and Rovers will meet Taranaki sides at Skoglund Park, Palmy North.