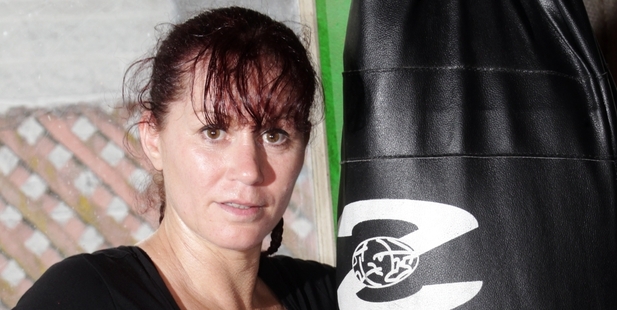 Hours before Paki Paki mother-of-two Sarah-Jo Manaena was killed in a car accident on State Highway 50 earlier this month she had sat down with Hawke's Bay boxer Leighann Banham.
"Sarah-Jo helped me plan my training schedule ... we were going to be training partners. Now Sarah-Jo is with me all the time, in my heart. This fight will be dedicated to her," Banham said.
A multiple national kickboxing champion, Banham, 40, will take on Wellingtonian Genitane Lupi in a 57kg class boxing bout over six rounds in one of the feature fights at the inaugural Combat Kings Battle of the Bay boxing event at the Hastings Sports Centre on June 28. This will be Banham's third professional bout but first in her home province, a year after returning from a six-year stint in Australia.
"It's awesome to be having my first pro boxing bout in New Zealand in front of the home crowd," Banham said.
Like Banham, Lupi, has a muay thai boxing background and represents the Muay Thai Institute Gym in Wellington.
She has also had acting roles in Second Hand Wedding and Eagle v Shark.
Banham's first two pro fights were against Australia's six-time world 55kg class champion Susie Ramadan, in 2009 and 2010. Her first fight was a split decision loss and her second was also a close points loss.
"That second one was on a Sunday afternoon. Sunday is my day of rest normally so it was hard to pysch myself up for it," Banham explained.
"I asked Susie three times before I got my first fight with her. Officials over there didn't think I was experienced enough."
A Jackals Gym fighter, Banham, is trained by her hubby and fellow martial arts exponent Andrew Barham. Since finding out about the fight three weeks ago he has had her on a gruelling twice daily training schedule.
"When we lost Sarah-Jo it has made me train harder. I want to bring our love for her and her family out in my fight," Banham said.
A mother of two and grandmother of three, Banham, manages to fit her training schedules around her work commitments which include running self-defence programmes at schools through the Teams Safe Module, personal training and security. Her fight schedule for the remainder of the year is almost as busy.
"We learnt so much in Aussie and we want to give that knowledge back to the Bay. We want to share it ... we've got several young Thai fighters who you will hear about in the future," the enthusiastic and bubbly Banham said.
The Fingers and Toes, Townrow and Sanko and Demolition One-sponsored fighter is confident of securing A 55-57kg class World Muay Thai Council national title fight in July or August.
Banham's end-of-year goal is a shot at the world Muay Thai Council kickboxing title held by four-time world champion Caley Reece of Perth.
"If we can raise enough dollars we might be able to bring her to New Zealand for the fight. Otherwise I will go to Perth if I have to ... you know me I like to fight as often as I can anywhere I can," Banham said.
Her 22-year-old daughter Tyler Roberts, who she trains, will have her first kickboxing bout on May 31. Banham is just as excited about this date as he is about her fight with Lupi.
Before leaving for Australia in 2008 Banham struggled to get kickboxing fights on a regular basis. She hopes this won't be the case on the pro boxing circuit now she has returned to New Zealand.
However, the twin sister of successful Hawke's Bay kickboxing coach and fighter Dion Crouch has no regrets about replacing classical ballet with fighting. Needless to say she will salute that code switch even more should she win her bout against Lupi on June 28 and her former training partner Sarah-Jo Reihana gives her the thumbs up from above.