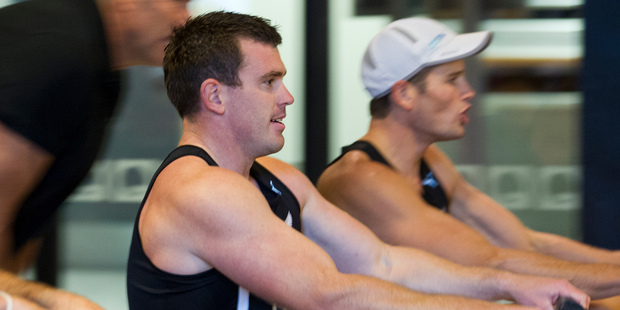 An Olympic champion two years ago, now Joseph Sullivan's form isn't good enough to make the national elite squad for this year.
After the London Olympic double scull gold medallist was omitted at the same time last year it raises the question of where, or if, his future lies in the sport.
Four scullers, Michael Arms, Robbie and Karl Manson and HB product Giacomo Thomas, will train for the double sculling seats, to be determined on June 1.
Rowing New Zealand's high performance boss Alan Cotter said no thought had been given to enlarging that quartet to five to offer a lifeline to Sullivan.
"His form is not up to what it was in London and the other athletes are just a little bit ahead of him," Cotter said last night. "It's up to Joe to make a decision that he's fully committed to the programme. We are open and all the support is here for him."
Twenty-four athletes in 10 Olympic class boats have been named to contest the second and third world cups and the world champs in Amsterdam in August.
Fourteen will contest the opening world cup in Sydney which starts on March 28.
NZ elite squads
Men
Single scull: Mahe Drysdale (Auckland RPC). Coxless pair: Hamish Bond (Southern RPC) and Eric Murray (Waikato RPC). Quad: Chris Harris (Central RPC), Nathan Flannery, John Storey, Jade Uru (Southern RPC). Lightweight double scull: Alistair Bond (Southern RPC) and Adam Ling (Waikato RPC). Lightweight coxless four: Curtis Rapley (Waikato RPC), James Lassche (Southern RPC), Peter Taylor (Auckland RPC), James Hunter (Central RPC). Double scull crew from: Robbie Manson and Karl Manson (Central RPC), Michael Arms (Auckland RPC) and Giacomo Thomas (Auckland RPC). Men's eight (for Lucerne only): Stephen Jones, Finn Howard, Isaac Grainger (Auckland RPC), Brook Robertson, Joe Wright, Tom Murray (Central RPC), Alex Kennedy, Shaun Kirkham, Caleb Shepherd (cox) (Waikato RPC).
Women
Single scull: Emma Twigg (Auckland RPC). Double scull: Zoe Stevenson (Waikato RPC), Fiona Bourke (Southern RPC). Coxless pair: Rebecca Scown and Louise Trappitt (Central RPC). Quad: Erin-Monique O'Brien (Central RPC), Lucy Spoors (Southern RPC), Georgia Perry and Sarah Gray (Waikato RPC). Lightweight double scull: Lucy Strack (Southern RPC), Julia Edward (Waikato RPC)