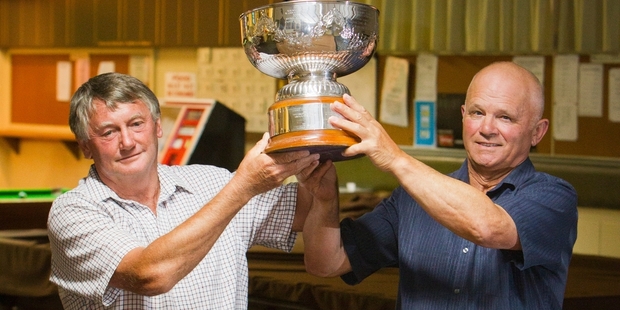 Fifteen years ago Robin Mohi and Allan Greeks joined George Barton to win the first three-man North Island Golf Championship title for Taradale Club.
Yesterday the brothers-in-law from Napier created history in etching their names on the silverware of the maiden Clubs New Zealand National men's Pairs Tournament title for their working men's club.
Teeing off in pole position yesterday, Mohi and Greeks scored 34 stable points each to maintain their lead at the Hawke's Bay Golf Club in Hastings for the bragging rights in their first outing in the annual tournament as the Taradale No2 team.
"We had a bad morning. I had 14 points in the first nine and Skeeter [Greeks] had 15 but we finished with 20 and 19 in the back nine," Mohi explained.
The combo were in fifth place on day one before grinding their way to the top on Wednesday in 70-80km/h wind gusts with a three-point lead, which they maintained yesterday.
They accumulated 221 points after three rounds with Hornby No2 (Andrew Ataera and Young Hong) three points adrift.
The South Wairapa No4 pairing of Lyn Evans and Trevor Barnard were third with 214 points.
Not long before the prizegiving ceremony at the National Service Club in Hastings last night, Mohi revealed the club strayed from its ritual selection competition for the pairs nationals this year.
A laughing Greeks responded: "Well, that's why we got in."
Jokes aside, the 67-year-old sales manager disclosed they decided to enter the tourney 13 months ago after Mohi was diagnosed with Burkitt's lymphoma, a cancer of the lymphatic system.
The 69-year-old retired freezing worker's hematologist, Dr Bart Baker, in Palmerston North, informed him he was in stage four of the blood disorder.
Said a grinning Mohi: "I said to to the nurse, 'It can't be too bad because I haven't reached stage 10', but she said it only got as far as stage four and I had only 20 per cent survival rate - on arrival, that is."
The 14 handicapper from Napier Golf Club had shed 12kg. His recovery was slow but he worked hard to regain his health and has been in remission for several months.
"I'm a bit more positive with my outlook on life. I take one day at a time."
Greeks, a 21 handicapper from Maraenui Golf Club, heaped plaudits on their wives as caddies.
Sisters Kathy Mohi, a nine handicapper, and Louise Greeks, a 14 handicapper, also members at their husbands' golf clubs, were pivotal in their success.
Allan Greeks: "They are both better golfers than us."
Robin Mohi: "No they are not."
A few laughs later, the men reloaded.
Greeks: "They're just fantastic. You can say they were golf knowledgeable."
Mohi: "They were part of the reason why we got there because they helped us and had a calming effect."
With his brother-in-law exposing his ailment, Mohi hastened to add Greeks also had minor knee surgery.
"Oops, I said minor. Is it?"
Greeks: "I had a torn cartilage of my meniscus in June so I had an operation in November but it was nothing."
The pair emphasised their victory had nothing to do with claiming prizemoney but simply winning the Pen Hawkins Rosebowl.
For Greeks it was his biggest sporting accomplishment since helping the Carters Frame and Truss Taradale Rugby Club premier team clinch the Maddison Trophy in the early 1970s as a utility back.
They were reluctant to say if they would defend their title next year at Kaiapoi, in Canterbury, except they were thinking about it.
Mohi: "I don't know what's around the corner for me so I'll play it by ear. I'm sure Skeeter wants to go for sure."
Greeks: "I'd love to."
Organiser Wayne Jeffery, who is on the executive of the golf club and service club, said the tourney was "one of the best" for the field of 256.
"It was great for the clubs, the national executive and the golfers," Jeffery said.
No one claimed the $1000 for a hole in one at No14 but Peter Gurr, of Marlborough, won $100 for getting nearest to the pin.
The North Island/South Island Trophy went to the team from the other side of the Cook Strait, 207-186.