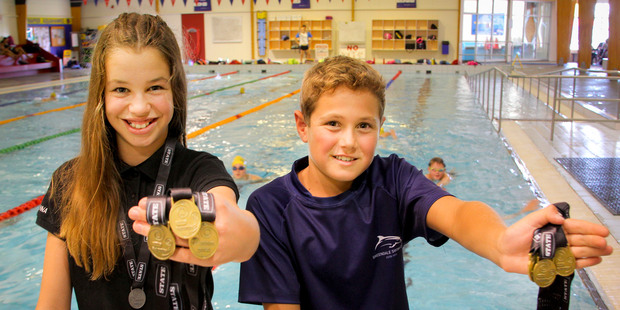 Hawke's Bay swimmer Arianna Wright has a little hand towel for inspiration.
It was given to the Napier Aquahawks' 10-year-old four years ago by her mother Philippa. Embroidered on the towel are the words "Ari The Ferrari".
The towel obviously works as Wright joined Greendale 10-year-old Gus Andrews as the Bay's gold medallists at the recent national junior championships in Wellington. Like Andrews, Wright, won three golds and she also returned home with a silver.
"In the wake of this success I might have to make some bigger banners with those words on," her mother quipped.
The Mike Lee-coached Wright won golds in her 10 years and under 50m, 100m and 200m breaststroke finals. Her respective times of 38.59s, 1m27.59s and 3m04.11s are all HBPB records.
Wright's silver was won in the 200m freestyle final and she also collected fourth placings in her 100m backstroke and freestyle finals and a 10th in her 50m backstroke final. The Iona College Year 7 student who started swimming as a 1-year-old and has been with the Aquahawks for the past five years was competing at her third junior nationals.
Last year Wright set HBPB records in the same three events she did this year. Despite her success in the Kilbirnie pool Wright, a sister of top Hawke's Bay triathlete Kaleb Wright, regards the Waipukurau pool as her favourite. "That was the pool where I first qualified for nationals," Wright explained.
While coach Lee declined to compare Wright with some of his previous national age group stars he said he is expecting her to do well in the Aquahawks club championships next month and have a crack at some national short course records.
"I just like to take things year by year and meeting by meeting," Wright said.
A handy netballer who shines in the goalshoot, goal defence and goalkeep positions, Wright, pointed out her main focus last night was to get some sleep. She had just returned home from a two-day school rafting trip on the Mohaka River and said a good sleep will prepare her well for her school's swimming sports tomorrow.
Havelock North Intermediate School Year 7 student Andrews won his three golds in the same events as Wright. His respective 50m and 100m breaststroke times of 39.65s and 1m28.77s were Hawke's Bay Poverty Bay records.
Andrews' 100m record bettered one set by former Greendale swimmer and now Canterbury University-based student Jack Drury nine years ago.
"That's how good Gus is. You have to remember Jack [Drury] was one of the best breaststrokers around. Gus has got it all and is a pretty good rugby player too," his swimming coach Noel Hardgrave-Booth said referring to the Havelock North 11th grade fullback's quest to gain Ross Shield selection during the next two years.
In addition to his three golds Andrews collected a fourth placing in his 200m individual medley final, a seventh with the HBPB medley relay team and also swum in the 100 and 200m backstroke, 50m freestyle and 100 and 50m fly events.
This is Andrews' second year with the Greendale club after progressing from the Learn to Swim ranks at Clive. At last year's junior nationals, his first, Andrews won a bronze medal in the 50m breaststroke and recorded sixth placings in another two events. He credited a month-long training camp during the school holidays as one of the secrets to his success in the capital. On average he trains for an hour, three to four days a week, swimming up to 2km during each session.
"My next major goal is to win all of my Year 7 races at my school swimming sports," he added.
It will be a surprise if he and Wright don't manage this feat.