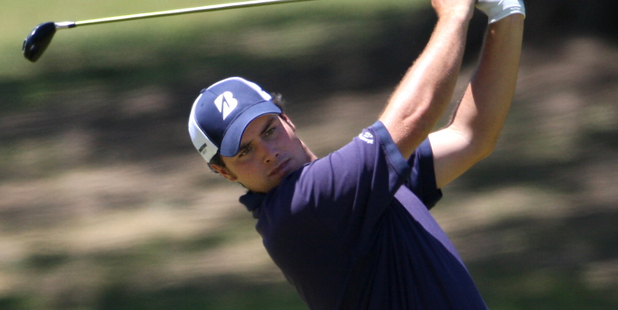 Hawke's Bay professional Doug Holloway set a scorching pace at the LawnMaster Classic in gusting winds yesterday at the Manawatu Golf Club.
The 30-year-old from Te Pohue, who is a four-time winner on the Charles Tour, carded a five-under par 67 in the morning round to claim a two-stroke lead over four players in the $40,000, 72-hole stroke-play event.
Holloway is two ahead of professionals Dominic Barson (New Plymouth) and Richard Lee (Auckland) and amateurs Sam An (Titirangi) and Vaughan McCall (Gore), who all carded rounds of three-under par 69.
New Zealand No1 amateur McCall and Japanese Tour pro Lee had the most impressive rounds of the second-placed players as they battled in the strongest winds of the day.
Tournament draw-card Craig Perks, who has come home for his first competitive golf since retiring in 2007, opened with a disappointing nine-over par 81.
But the opening round was all about the clinical display of one of the tour's most successful players.
"It was pretty good considering how windy it was out there," said Holloway, who in his prime came close to qualifying for the PGA Tour.
"I am very happy with my start. I have had a look at the leaderboard and there are guys like Harry Bateman right there, who shot two under, who aren't going to let me get away from the field. I am looking forward to the weekend now."
Holloway started on the 10th tee and played his front nine in one-under par after a bogey and an eagle on the par five 15th before he came home strong, playing the back nine in four-under par 32. He said he had played well at the Manawatu Golf Club in the past and felt pretty comfortable there.
"There are a couple of holes that don't really suit my eye but I just try to make pars on them and carry on."
These days, Holloway loves the balance of being a part-time farmer and part-time golfer.
"It is great. It is totally different when you get into the work on the farm - it settles the brain down and you just get stuck into some hard work. It is good to get away from golf and when I come back I feel totally refreshed."