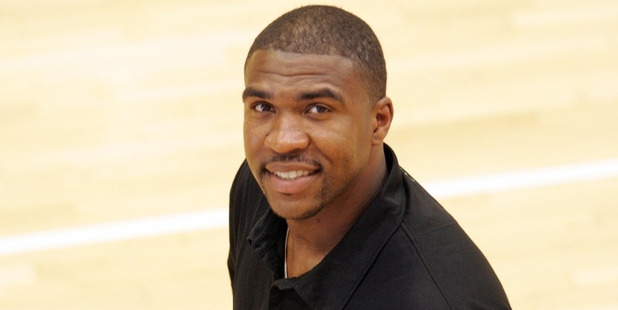 When only a youngster, Dustin Scott had a "great childhood" but resented his older, bigger and stronger cousins bullying him and twin brother Justin on the backyard of their grandmother's house in Charleston, South Carolina.
"[They] roughed us up a bit and pushed us around," says Scott of how his cousins would pad up his two-minute older brother and him before pummelling them at games of American football in their equally "great neighbourhood".
Ditto in basketball, from the age of 10, when the sons of Cathy and felt-maker Cardell Scott didn't see much point in taking on their cousins, who were five years older than them, because finding the hoop or a touchdown became a seemingly impossible exercise.
It wasn't until later the new IMS Payroll Hawks US import Dustin Scott realised how that systematic bullying helped hardened his resolve in sport.
"I didn't like to be bullied but I see the benefits in it now," he said yesterday only hours after touching down at Hawke's Bay Airport in Napier after almost 26 hours of flight time.
That's the sort of quiet but steely resolve Scott, who turns 29 on Monday, brings to the Hawks' equation this season.
While instantly falling in love with the balmy Hawke's Bay weather and some of his fellow Hawks teammates' accents, the power forward/centre is under no illusions about how tumultuous the court of contention can be when the 2014 Bartercard National Basketball League tips off in April.
The Tab Baldwin-coached Bay franchise team will open their account away against seven-time champions Wellington Saints in the capital on Wednesday, April 2, at the TSB Arena from 7pm.
The Charleston University graduate, who played in the NCAA division 1, Southern Conference, isn't daunted by the prospect of mixing it in the physicality stakes of the NBL although he was hoping to get some idea of how intense it can be during training with the Paora Winitana-captained side last night.
"The NBL is similar to Kosovo. The guys I have played there are very solid, seven footers," said the man who stands just shy of 2m.
While not a 90 per cent three-point merchant, he oozes versatility - his rebound is spiffying, offensively and defensively, he can jump and, oh yes, he can "put the ball on the floor".
"I'm an undersized big man but I like the contact," he said, emphasising he had played position 4-5 (powerforward/centre) his entire career.
Needless to say, losing isn't part of the constitution of a man who has won two cup championship (knockout) and league championship titles while plying his trade in Luxembourg, sandwiched between Germany and Belgium in western Europe, and Kosovo, in southeastern Europe, and Ecuadoir in South America.
When Baldwin cast his net out wide for imports, he revealed yesterday he hadn't found much traction viewing one-game video clips until he saw Scott.
Among the big man's attributes was his deceptive speed and dribbling skills and the level of athleticism he exuded.
Baldwin, in his second Hawks season, had asked himself: "Is it just the one-game video or is he a quality player?"
A Florida native from the southeastern region of the United States himself, the 55-year-old former Tall Blacks coach found comfort in dealing with Scott's agent, Dale Mock, who also got ex-Hawk and ANBL pivot Josh Pace into the NBL arena.
"Dale's an ex-coach and has integrity. I asked about Dustin's character and he told he was a good man, didn't get into trouble and is a professional," said Baldwin, emphasising he had trawled neighbourhoods akin to those of Scott as a coach.
Furthermore, because he was already a big man, Baldwin didn't have to focus on his pedigree as a basketballer.
"He's a good fit for us so we'll put him on court to find out more."
Scott is there as a back up for Kareem Johnson, the other Hawk US import who is back this season as a No5 man (centre) after sitting out last year while Baldwin and the franchise unsuccessfully gambled on the player having his citizenship application stamped.
Johnson, 32, also from the southeast of the US, wife Lucia Sunseri, a Kiwi, and their children live in Napier but it could take up to five years for him to fulfil citizenship criteria and anything earlier would be the prerogative of the Immigration Department.
American slasher (No3) Brian Greene, who deservedly collected a lion's share of silverware last season, was surplus to requirements, Baldwin revealed in November, because they had signed Johnson who needed a big-rig back up.
He rightly deemed Greece-based import Darko Cohadarevic "too soft" and questioned the Serb's character, which became clearer at the end of the season. The Hawks finished seventh in the nine-team league last winter.
Baldwin said Scott and Johnson could feed off each other but the former was equally adept at shifting to No5 should the latter need a rest or find himself flirting with foul trouble.
The new signing doesn't have any qualms about sharing his views with a point guard on the floor, albeit tactfully, but has no designs on captaincy.
"Anybody can say anything. The big thing is to lead by example.
"You can't ask others to rebound or box out if you're not doing it yourself."