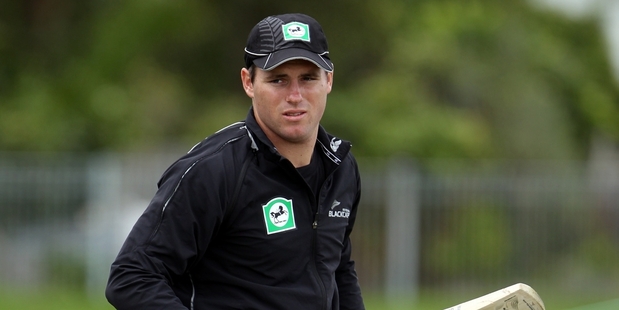 No one doubts Doug Bracewell's talent, but the imbibing international cricketer has again made "a very poor decision".
"Whether he's contracted with us or New Zealand, if he keeps doing what he's doing then no one will tolerate it every time," said the Central Districts director of cricket Craig Ross yesterday after the Stags allrounder again found himself in the national and international media spotlight following another drinking episode.
"Our job is to help boys to grow up to become big boys," Ross said after Bracewell and former Hawke's Bay cricketer and fellow international Jesse Ryder drank alcohol at an Auckland bar until the early hours on Waitangi Day on the opening day of the first test against India at Eden Park.
Speaking from Nelson, where the Stags are playing a four-day Plunket Shield match against the Otago Volts at Saxton Oval, he said CD Cricket was waiting for New Zealand Cricket's plan on the Black Caps test player before deciding what part it could play as a major association.
"There's no doubt he's a highly valuable player but he needs to change his ways," Ross lamented of the Taradale Cricket Club premier player who was part of the 13-man squad with Ryder but missed out in the final cut.
The Heinrich Malan-coached CD team had the 23-year-old bracketed to play but discovered he had a broken foot, although he was reportedly fit after training before the selection on Wednesday.
Ryder played for the Volts from Friday, carving up an unbeaten century (17th first-class one) amid reports he had ditched his manager, Aaron Klee.
However, the pair had robbed the media limelight from Black Caps skipper Brendon McCullum's double ton and the Kiwis' 40-run victory over the touring India team yesterday.
Bracewell's teammate, veteran Jamie How, is on the verge of scoring a double ton when he resumes batting today in Nelson on 194 runs.
Ross was also clueless on how Bracewell injured his foot. The bowler was the back-up speed merchant for the Black Caps if Tim Southee, Trent Boult or Neil Wagner had picked up injuries while Ryder was bracketed with CD batsman Ross Taylor, whose wife is expecting their second child in the next few days.
"At the end of the day everyone's disappointed but no one will be more disappointed than Dougie," Ross said, adding it all boiled down to Bracewell's poor decision making.
"He's made bad decisions again and NZ Cricket are addressing his contract.
"So we're just waiting for wherever they put Dougie in their plan."
Bracewell and Ryder are repeat offenders for boozy nights and breaking team protocol. In February 2008 Ryder shoved his hand through a window in a Christchurch bar, damaging ligaments.
Almost a year later he was suspended from an ODI in Auckland for late-night drinking in Wellington.
In February 2012 Bracewell and Ryder received game bans for becoming embroiled in a Napier bar altercation following an ODI.
In March last year Bracewell missed the test series against England after cutting his foot on glass cleaning up after a party at his Napier South house. In that month someone assaulted Ryder at a Christchurch bar before he received a six-month ban for failing a drug test.
In November CD stood down Bracewell for a T20 game after he returned late following a few drinks with Volts players the night before a game in Hamilton.
Ross said as far as CD was concerned, Bracewell's case was black and white and he needed to make valued judgments about his career.
"Don't get me wrong. If Dougie needs assistance CD's happy to provide it, but he needs to be getting his life together and sorting it out," he said, drawing parallels between NZ Cricket and New Zealand Rugby Union's approach to dealing with recidivists.
Should NZ Cricket terminate Bracewell's contract, Ross said CD would have to look at their end but "we haven't even gone that far yet".
He felt it was a "total cop-out" for anyone to look at any other reasons as to why Bracewell was in a similar predicament.
While it was unclear how bad his injury is and how long he would be out, Ross said Bracewell's myopic actions had, no doubt, had an impact on the Stags.
CD are defending shield champions and finished last two years in a row in the HRV Cup T20 competition.
"He's just not playing and obviously having an impact on us and on his career ... so he's got to start taking responsibility for his actions. The question is what will Dougie do about it?"
The Stags yesterday had a handsome 395-run lead over Otago with seven wickets in hand as captain Kieran Noema-Barnett (68 not out) resumes batting with him today at Saxton Oval.
How eclipsed his highest first-class score when he reached 191.
"I'm just ticking along. It's nice to get out on a flat one [wicket]," said the 32-year-old from New Plymouth after carving up 24 boundaries and three sixes from 235 balls in 324 minutes.
A first-dig ton would have been better but "we'll take them anyway they come", he said after Otago declared at 271-3 on the heels of CD amassing 307 all out in their first innings.
Asked if How would bring his 200 before Noema-Barnett declared today, he said it was possible but he preferred to "enjoy a couple of beers and worry about it tomorrow".
Opening batsman Ben Smith retired hurt on 11 after Jimmy Neesham's bouncer stayed low to catch him between the eyes.
Smith took five stitches to the cut, added to three above an eye in training.