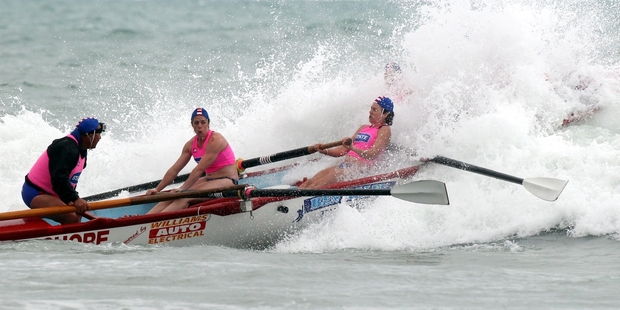 It hasn't been done since the heyday of Daniel Moodie, according to Kim Nilsson.
That is, someone who has entered the under-16, under-19 and Open men's grade and walked away with all titles.
Well, all that changed yesterday when Bertie Bassett-Foss emulated the feat of former champion Moodie on the first day of the Hawke's Bay Surf Lifesaving Championship.
In many ways it was a Bassett-Foss family affair with father Michael and sister Bella, 14, also competing at Waimarama Beach, where the champs will continue to be staged tomorrow and Sunday.
"Our kids are very involved in pool swimming," Michael said last night of fellow Waimarama club members Bertie, 16, of Lindisfarne College, and Bella, of Napier Girls' High School, who train under Mike Lee, of the Napier Aquahawks Club.
"They haven't put a lot of effort in surf competition but we have spent a lot of time on the beach as a family," said Michael, who finished third to Bertie in the Open men's grade.
"They are swimmers, first and foremost."
The Bay businessman, in his "late 40s and hoping to keep a low profile", said he was simply competing in the champs to keep fit.
"My competitive days are decades old ... I'm just participating with the kids when they are surfing or body surfing," said the former Surf Lifesaving New Zealand chairman, who stepped down from the position last year.
Bella only qualified as a surf lifesaver last weekend.
When hopefuls turn 14 they become eligible to become lifeguards, seeking fluency in first aid, lifeguard skills, surf and beach knowledge, and honing other such related skills.
Another sibling, Daisy, 12, who also is keen on swimming, has plans to give surf lifesaving a go someday when she makes the cut.
The children's mother, Louise, also boasts competitive credentials. She is the daughter of Lou and Mark Foss.
The Bassett-Foss couple moved to the Bay about 15 years ago from Manawatu.
For the record, Nilsson said, Moodie, who lives in Australia, was now a father.
After yesterday's competition, the Westshore club made its intentions clear in amassing 210 points, with Ocean Beach a distant second on 97 while Waimarama were third on 74.
Pacific has some serious catching up to do on seven points.