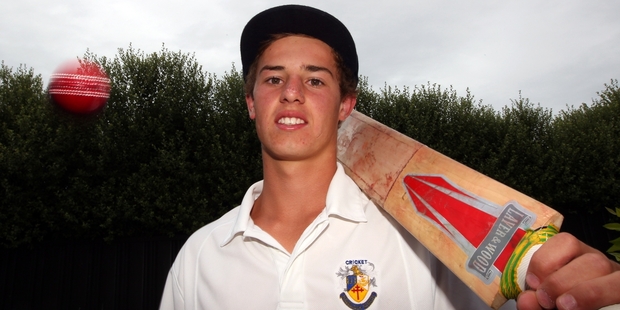 It's all good to bask in the limelight after a sporting milestone but in a team environment, quite often, it takes many hands to make it a momentous occasion.
Chris Hicks didn't hesitate to compliment fellow batsmen after a match-winning century at the annual Riverbend Cricket Camp last week.
The Havelock North CC opening batsman carried his bat to 100 not out in a Twenty20 match against Taradale CC in the Year 11-13 boys' grade on Wednesday last week.
The 15-year-old's feat came from 58 balls, with 16 boundaries on the artificial pitch at Park Island, Napier, in the villagers' 17-run victory.
No4 Harrison Gregory came in with five overs to go after No3 Caleb Dresser had forged a 90-odd partnership with Hicks to help boost Havelock North's total to 198-2.
"Harrison sacrificed his 50 to give me a chance to make my 100, after he kept ticking it over to give me a strike," says the Lindisfarne College pupil of Gregory, who was on 48 runs.
The Chris Wallace-coached Havelock North side dismissed Taradale for 181.
Hicks says the Taradale bowling was good but "I wouldn't call it a smashing attack although they bowled everything at us".
"They had a couple of bowlers who were good but we kept them out and decided to go for the second-rate bowlers."
His coach lauded him and other batsmen for batting sensibly and playing in front of them while not taking risks.
In a reshuffled lineup in another game that afternoon against St Pat's, of Wellington, Hicks says Louis Skerman opened with a quick-fire 50 before retiring to make way for other teammates. "That just shows what a great guy Louis is in letting everyone have a go."
Hicks, who will be a Year 11 pupil this year, has played five games for his school's first XI team in Hawke's Bay Cricket Association's senior division one men's competition this summer.
It is his fifth year of playing at the Riverbend tourney and this week he was invited to help Tawa and Havelock North in the higher-level Open boys' grade.
It's the second ton in Hicks' budding cricketing career. He scored his maiden one in 2012 at the end of Year 9 in a Saturday morning game for his school.
A former wicketkeeper, he is rolling his arm these days.
"I usually bowl at first change or second with medium pace but, if needed, I can bowl offspin."
A product of Milo cricket, Hicks built an affinity with the country's No1 summer sport.
"I wasn't a big smasher of the ball as a kid. I used to play straight when I went to Milo cricket."
He spent countless hours in the nets with his father, Francis Hicks, who honed his technique.
The younger Hicks paid tribute to his coaches, especially Rokon Al-Shariar, a Bangladeshi who plays for Craft and Hern Havelock North CC premiers team.
"Rokon got me through and taught me stuff I'd never learned."
Hicks also thanks Lindisfarne College's Rob Hay, who was his Parkvale Primary School coach when his son, Hamish, was a pupil there, too.
A Bay under-15 boys' representative last year, Hicks has progressed to the under-17s although he has his sights on Central Districts age-group honours.
"I want to push into CD. I have to keep pushing and keep getting runs so, hopefully, someone will get a look at me to give me a chance to get in there."
He thanked former New Zealand international Derek Stirling, who selected him for an elite batting session in winter when every second Sunday he faced a barrage of deliveries from a bowling machine at the Napier Tech indoor facilities at Onekawa.