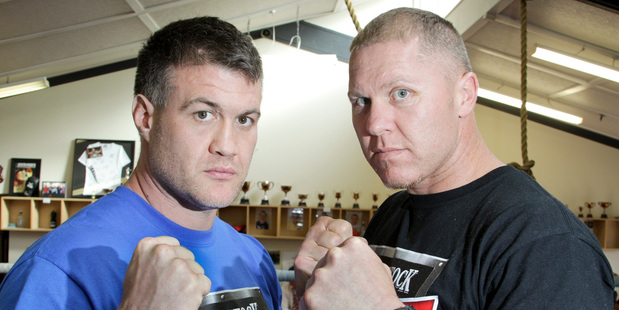 "Shane, take your money and go home, mate," a female boxing spectator yelled out from the paying-public section of the balcony last night.
It was pretty good advice for New Zealand boxer Shane Cameron after he retired before the start of the eighth round against American Brian Minto in Auckland last night.
In many respects, there was a sense of inevitability about the feature professional bout in the Fight for Life event at Trusts Stadium, Waitakere.
Cameron, 36, had championed fireworks in the pre-match hype for the vacant WBO Oriental heavyweight title fight of the Duco Events promotion event but he struggled to find the fuse to ignite his promise.
The 38-year-old Pennsylvania professional opened the fight with unbridled aggression, forcing Cameron to the ropes at will.
In the second round it became obvious Cameron was flirting with a cut from the second round as he did little to protect himself from jabs and head clashes.
Not surprisingly Minto opened a cut above Cameron's left eyebrow in the third round.
One would have expected his corner to impress the need for more ring craft to keep Minto at bay but instead Cameron often retreated to the ropes where his opponent hit him at will.
To Cameron's credit, he started jabbing in round four but it was too little, too late. It also raised questions on the impact of a one-year layoff after his cruiserweight loss to Danny Green.
Minto was like a bull to a red rag, gravitating towards the blood oozing from above Cameron's eye.
Referee Lance Revill warned Minto not to use his head in round four but midway in the next round deducted a point off him for using his elbows before penalising the American in round six for head butting.
While Cameron, after the bout, said "it was one of those fights with heads coming in from everywhere", the question is how good was the Kiwi fighter's visibility.
Cameron's manager, Ken Reinsfield, said: "He couldn't see from the eye so there was no point in carrying on."
It seemed Cameron didn't have a plan B but, more damningly, one must ask what direction did he receive from his corner.
"He [Minto] had a better game plan than me tonight," Cameron confessed as the American jolted him with some bone-jarring punches.
New Zealand trainer Kevin Barry, who was in Minto's corner, didn't think it was entirely Minto's fault because of his in-your-face stance.
"He's a short guy who has always been fighting taller opponents so he can't stand on the outside.
He fights you on the chest."
It didn't help that Cameron kept tying up his fighter, the Las Vegas-based trainer said, prompting the American to up his aggression.
If anything, Barry was expecting Cameron to "box more".
"I didn't expect him to spend so much time on the ropes as he did but our game plan was to get him on the ropes," he said, adding the double jabs came into play with the head swaying from side to side.
"I don't know what the judges' scores were and we had two points deducted but I thought Minto was fighting very well."
While the Cameron camp announced their fighter would "enjoy Christmas" before making any decisions, it wouldn't surprise fans if he hangs up his gloves in the same mould as David Tua did several weeks ago after losing to Belarusian Alexander Ustinov in Auckland.
Some feel a Tua v Cameron rematch may be a crowd puller - after Tua left the Mountain Warrior in a bloodied, battered mess in their only clash -- but it remains to be seen if the retired Samoan will even entertain such an offer.
Barry, who trained Tua before they ended up in a much-publicised legal battle over contractual issues, begged to differ although he emphasised he wasn't working with either fighter.
"I don't think it's a fight anyone wants to see. I'm a boxing fan and it's definitely not the sort of fight I'd want to see."
Barry said Minto, whose career was in the balance before last night, would have a tremendous Christmas.
"If he had lost tonight he probably wouldn't have fought again," he said of Minto who arrived at his Auckland hotel in a limousine with a group of well wishers, including Peter "The Mad Butcher" Leitch, as he showed off his belt.
With the title and the promise of two more fights in New Zealand, Barry said Minto was rejuvenated.
Asked if promising heavyweight boxer Joseph Parker was in the mix, he replied: "Joe Parker may very well be one of them."
Parker told Hawke's Bay Today after the fight he had no qualms about fighting Minto.
The American is likely to appear as an undercard fighter in Parker's feature bout in March and "possibly [fight] Parker in June or July".
In last night's undercard charity fights between rugby union (in red) and rugby league (blue) code representatives, the former again came up short, albeit amid controversy.
The opening bout between TV presenter Stephen McIvor (union) and print journalist Steve Kilgallon ended in a draw after three rounds but the packed stadium, if cheers are anything to go by, felt McIvor had won after the latter took a standing eight count.
The judges came under further fan scrutiny when they ruled in favour of Brisbane Bronco Sam Thaiday over Chiefs prop Ben Tameifuna, of Hawke's Bay.
Two judges had only a point separating the pair for a tie but the third gave Thaiday a three-point margin amid jeers before an unofficial chorus of approval for Tameifuna.
Kangaroo Paul Gallen kept his unbeaten record, out-pointing All Black Liam Messam in a closer affair compared with last year when he overwhelmed Bay-born Chiefs hooker Hika Elliot.
In the battle of retired international cricketers, a better-prepared Chris Cairns beat fellow commentator Simon Doull who looked spent but nobly put his hand up to fight for a charitable cause, Kids Can, when a Shoaib Akhtar proposal didn't find traction.
Doull batted for Cairns who is reportedly facing allegations of an ICC inquiry.
"He's innocent until proven guilty," Doull said.