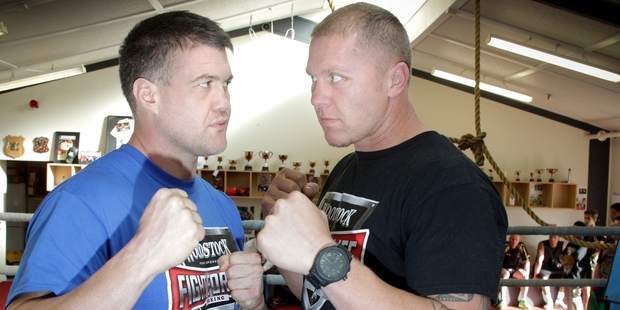 Crikey... are Kiwi boxer Shane Cameron and his American opponent Brian Minto in danger of becoming too friendly in the buildup to Saturday night's feature Fight for Life bout in Auckland?
The question had to be asked after the pair arrived in Hastings yesterday. They had travelled on four flights together to promote their heavyweight clash in Dunedin, Wellington, Nelson and Hawke's Bay.
"Not at all. We might share the same plane but once we arrive at our destination we travel in separate cars with our respective teams," Cameron, a descendant of Hawke's Bay's Ngati Rongomaiwahine tribe, said.
The Tiniroto-born Cameron, 36, refuses to accept Minto trainer Kevin Barry's claim that all the pressure will be on the "Mountain Warrior" when the banter stops and the punches fly.
"Shane had his hand and cut problems. He has been out of the ring for a year and has come back into the heavyweight ranks after being a cruiserweight ...
he will be under a lot of pressure," Barry said.
"This isn't my country. I can leave here as the same guy who arrived, no matter what happens," Minto said.
"That sort of talk doesn't worry me. I'm confident of a win ... I'm feeling good and training has gone well. I'm strong, mobile and fast," Cameron said before a 45-minute training session at the Flaxmere Boxing Academy.
He agreed coming home to his place of birth, Hawke's Bay, in his final promotional visit before returning home to Auckland tomorrow to rest up before the bout could prove a lucky omen. At the same time, Cameron believes he has done the necessary homework.
"I know what Minto brings. If he comes with something different I will have it worked out in the first round."
The pair's mutual respect is huge.
"He has had the big fights and fought for world titles, like me. At the same time, I know a win will move us closer to a fight for another title," Cameron said.
Minto, 38, who is nicknamed "The Beast", appeared extremely relaxed and eager to capitalise on the fact he has had plenty of fight time, including a stint in last month's England-based Prizefighter tournament which pits American and UK fighters against each other. He pointed out he was amazed by the number of sheep in New Zealand and with no weight issues to worry about he was able to sample some lamb off one of Barry's barbecue meals.
A 1982 Olympic Games silver medallist, Barry, who trains New Zealand's rising heavyweight star Joseph Parker, had never met Minto before deciding to train him for this weekend's 12-rounder.
"I haven't had to make a lot of changes but it's those little things which could prove the difference," Barry said.
He pointed out the bout had the potential to be "a barn burner", given both fighters were similar in stature and liked to come forward and trade punches.
Cameron has a slight eight-centimetre height advantage and four-centimetre reach advantage.
"It's definitely going to be fan friendly ... the most exciting fight in New Zealand this year."
Although Barry and Minto refused to make public their fight predictions, Barry said the American would do well if he stuck to his game plan.
"There will be nothing coming out of his mouth afterwards, as he will have left everything in the ring. Brian knows he has to be smart as well as busy and keep his focus," Barry said.