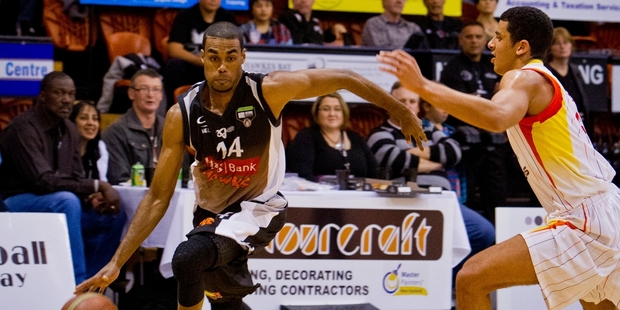 Hawke's Bay basketballer Alonzo Burton will be fastening his seatbelt with the Manawatu Jets next season after failing to find traction with his home franchise.
"I'm young and I want to get better. The only way to get better is to be put in pressure situations," the 19-year-old guard of Napier is quoted as saying in a Jets statement.
The 2014 Bartercard National Basketball League season tips off early next year.
The former St John's College (Hastings) pupil has played two seasons for the Hawks, predominantly coming off the bench over that duration.
The Manawatu franchise has offered more court time to Burton who also finds the possibility of studying at Massey University in Palmerston North appetising.
However, the son of former Hawk NBL title-winning player and ex-assistant coach Willie Burton says it was a tough decision.
"I love Hawke's Bay. It was a really tough decision for me. I wanted to get out of home a little bit, get out of Hawke's Bay and become a little bit more independent," says Alonzo Burton, whose mother, Suzanne, has family in Palmerston North.
The senior Burton also plied his trade for the Jets and is the only basketballer to be awarded Manawatu Sportsperson of the year, in 1989. He also holds the NBL record of most games (360), including stints with the Jets from 1985-86, and 1989-90.
HBS Bank Hawks coach Tab Baldwin, who is scouting talent at the Fiba Oceania Pacific Championship in Porirua, yesterday said the franchise had had a rapport with Burton during its normal recruiting process.
"We only have so much in the budget so we did make him a great offer," said Baldwin of Burton, who is a New Zealand Breakers development player.
"He called and we talked ... about his playing role," he said, revealing a fortnight later Burton contacted him to say he had signed with the franchise on the other side of the gorge.
It isn't clear if the Jets offered Burton more money but court time appears to be a key factor.
"That remains to be seen. Theguys in Palmerston North have made promises. It'll be interesting to see if they keep it or not," said Baldwin, who felt it "unethical" for coaches at any level to make such offers.
"What if a player comes in and plays badly?
"What can you do? Sit him on the bench."
However, Baldwin had great confidence in Burton's ability to do well.
Hawks, he said, got court time based on their ability and loyalty to the team.
"We used him [Burton] as a promising player but we certainly didn't rely on him."
Baldwin, who was looking at Maori and Samoan players at the Oceania champs yesterday, said the Hawks' Kiwi roster would be filled before Christmas and then they'd look at wooing their imports.
The Jets have hailed Burton as their third major signing behind Jeremiah Trueman and Nick Horvath.
Last July, in the Hawks' 80-66 loss to the Jets, Burton made the starting five although the Final Fours hopes of the Hawks were long gone.
"I'm more than ready. Coach Tab has been good to me for the season. I love bringing impact off the bench but I also like to start," Burton had said after the game at the Pettigrew-Green Arena, Taradale, in Baldwin's maiden season with the Paora Winitana-captained Hawks.
Jets coach Darron Larsen labelled Burton "a great pick-up" for the Manawatu franchise.
"He is one of the best young players in the league and with a year in the Breakers organisation he will be even better. We expect big things from Alonzo this season.
"Signing Alonzo is a great story for basketball in our region. Like a lot of Jets fans, I grew up watching Willie play for the Jets in the late 80s. We are all about family here at the Jets so bringing a Burton back to the franchise is a great move," says Palmerston North-born Larsen, who was assistant Hawks coach under former NBL title-winning Shawn Dennis, of Australia, for a season.