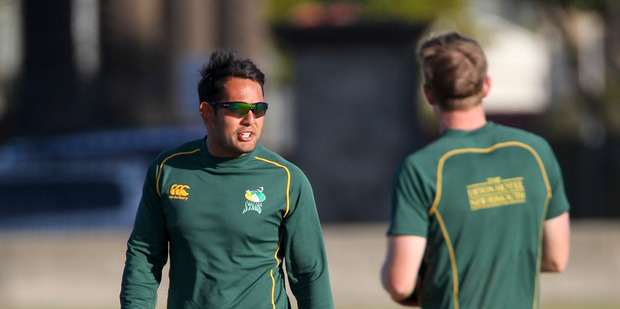 IT'S NOT how you start but how you finish that is a pivotal factor in any game, let alone in a twenty20 cricket match.
The Devon Hotel Central Districts Stags found that out the hard way last night after losing by five wickets to the Wellington Firebirds in the third round of their HRV Cup Twenty20 match at the Westpac Trust Stadium, Wellington.
Yet to win a game, the Heinrich Malan-coached Stags seldom looked like they were on the front foot amid a rash of mistakes mingled with passages of sublime play.
To compound their woes, captain Kieran Noema-Barnett was rushed to hospital to have stitches put on the webbing of his left hand after trying to stop his own delivery.
But no doubt the salt in the wound would have been finding out on the hospital waiting room that the Firebirds had been victorious.
Needing a boundary off the last ball from English import Peter Trego, No 7 batsman Henry Walsh, in just his second game, deposited a full toss over square leg for a lusty six as the Firebirds burst into celebration on the sideline.
The Stags were guilty of bowling too many full tosses and quite often committing schoolboy errors on the field that gifted needless runs to Wellington.
But CD's start was commendable, albeit posting a total that should have finished with a lot more gusto from the middle-order and tail-end batsmen.
What looked like a 220-230 total shrunk to 195-8 in 20 overs for CD because of Firebirds bowler Dane Hutchinson's great use of a deceptively slower delivery, offering swing up to the death overs.
That begged the question on why CD persisted with seamers when taking the pace off the ball with spinners such as Marty Kain and Ajaz Patel as well as medium pacers, such as Carl Cachopa, should have been on the agenda.
Having won the toss, CD openers Jamie How and Trego gave the visitors a great platform to build a handsome total.
Somerset county cricketer Trego departed in 7.1 overs having scored 52 runs off 27 balls, including eight boundaries and a lusty six.
"It's great to arrive on the shores here this time with the bat," he said, after CD lost their previous match to the Northern Districts Knights by 31 runs in Hamilton.
No 3 Cachopa came and went with nine runs, surviving a run-out attempt.
How's dismissal for 57 runs off 37 balls, including five boundaries and two sixes, looked iffy when he chased a short-pitched delivery from Brent Arnel.
It didn't look like he had had nicked the ball above his head but a hesitant umpire slowly raised his finger.
The veteran played intelligently, feeding Trego before assuming the mantle of pinch hitter.
TV commentators questioned the promotion of Doug Bracewell to No 4 but the Black Caps allrounder justified the move with 34 runs from 18 balls as ex-Black Cap/commentator Craig McMillan made a U-turn from his earlier opinion with: "Dougie should be promoted more often."
It took a special delivery from Dane Hutchinson to rearrange Trego's furniture. The ball swung out before turning back in to dislodge the bails.
Barnett survived a catch at deep backward of third man but didn't find much traction, triggering off the neon stumps while playing a slower delivery from Hutchinson for 10 runs from nine balls.
Tait enticed wicketkeeper Kruger van Wyk into playing a false shot for a soft dismissal but he committed the T20 cardinal sin of gifting wides (three).
Like the wicketkeeper, Will Young and Ben Smith posted single-digit figures while "freelance cricketer" Jacob Oram couldn't get off the mark from two balls.
For the Firebirds, Hutchinson was outstanding with 4-24 at six runs an over after all the bowlers were flirting with the 13-runs-an-over mark in the earlier stages.
Bracewell gave the hosts a wake-up call when he clean bowled import opening batsman Travis Birt for two runs.
With the pace and bounce favouring the batsmen, last night was a test for seamers who had mastered the art of never-arriving balls and had another bag of tricks in fading deliveries that demanded batsmen walk towards point to get bat on ball.
If Oram looked rusty with the bat, he certainly didn't with the ball, claiming the wicket of Michael Papps for six runs to finish as the most frugal CD bowler with 2-27 at 6.75 runs an over.
But Pollard was the danger man for Wellington, scoring 47 runs off 36 balls
It didn't help that Patel and Young misfielded although the onus was always on the former to snaffle the ball first.
Stephen Murdoch got a life when Young dropped him on 23 off Cachopa's delivery but the New Zealand A player put that disappointment behind him to claim the wicket of Pollard when Trego took a spectacular diving catch at point to dismiss him.
More drama followed when Noema-Barnett left the field, two balls shy of his second over after injuring his left thumb.
Kain finished the over but Murdoch casually strolled across his stumps in the next over from Bracewell to flick the ball for a six to bring up his half ton.
In the 16th over, Van Wyk also lost focus, fumbling a run out with unbeaten Luke Woodcock gone for all money.
Bracewell, who was disciplined last round for returning after midnight to the team hotel on the eve of the 31-run loss to ND Knights in Hamilton, also claimed two wickets but was closer to 10 runs an over.
Woodcock, 33 not out, and Walsh, unbeaten on 15, were the heroes on the wicket for the Firebirds.
For CD, it's back to the drawing board but they'll have time to refine with Malan as they don't play a T20 match until December 27, hosting ND at Saxton Oval, Nelson.