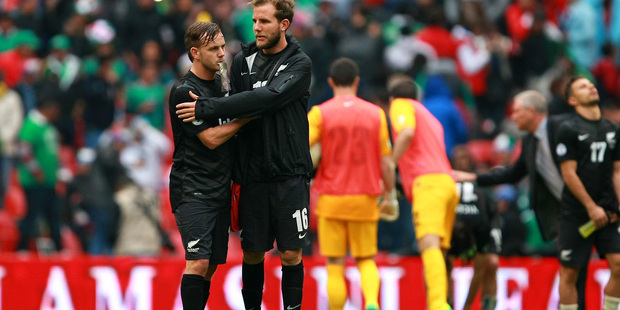 Mexico took a huge step toward next year's World Cup finals, shaking off recent bad form to pummel New Zealand 5-1 yesterday in their intercontinental play-off first leg.
Playing in Mexico City's imposing Azteca Stadium, El Tri delivered on their manager Miguel Herrera's pre-game call to take a big goal advantage into the second leg in New Zealand on November 20.
It was a massive turnaround for Mexico, who barely made it to the play-off after struggling in their North and Central America and Caribbean regional group, finishing fourth out of six teams.
After winning just twice and scoring a paltry seven goals in 10 games within the Concacaf final group, the Mexicans looked like a revived team as they came out charging against the All Whites.
Herrera shook things up after taking over, calling up only domestic league players while leaving out Europe-based stars such as Manchester United's Javier Hernandez and Villareal's Giovani dos Santos.
The outspoken manager had voiced confidence that Mexico would win, even asking his squad to score at least three goals to take them closer to Brazil next year.
New Zealand, who made it to the 2010 World Cup after a memorable play-off victory against Bahrain, had hoped to keep it close but Mexico were the stronger side.
Mexico have played in 14 of the last 19 World Cups while New Zealand only appeared twice, making them massive underdogs against the Concacaf giants.
"The public probably saw the Mexican team that they are used to seeing ... and they really delivered tonight and I think we contributed to helping that," said New Zealand coach Ricki Herbert, adding that the team struggled in areas where "normally we are very strong".
Goalkeeper Glen Moss made several valiant saves but Mexico's relentless attack was too much, with Santos forward Oribe Peralta leading the charge with a brace.
Defender Paul Aguilar opened the score sheet when he volleyed home a ball deflected inside the Kiwi area in the 31st minute.
Club America teammate and striker Raul Jimenez followed eight minutes later with a header following a corner kick.
Peralta scored his first goal three minutes into the second half, his second coming in the 80th minute before defender Rafael Marquez headed home from a corner soon after.
New Zealand's Chris James scored a consolation goal a minute later but it was too late to do any damage. AFP/APNZ