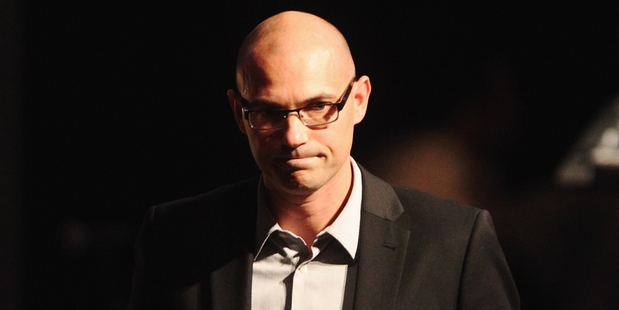 Midfielder Cole Peverley left the Bay soccer franchise for Team Wellington this summer of his own volition.
Kinetic Electrical Hawke's Bay United coach Chris Greatholder says the franchise didn't "cut loose" the Napier-based player who didn't make the All Whites cull for the World Cup elimination qualifying matches against Mexico.
Yes, the two parties didn't see eye to eye on Peverley's worth but, no, the negotiations went beyond text messaging to two phone conversations in selecting a squad to begin the ASB Premiership national summer league campaign which started last weekend.
"Cole chose to leave the franchise because we couldn't offer him the deal we wanted," says Greatholder of the player who represented Bluewater Napier City Rovers in the Central League campaign last winter.
"He wanted a certain figure and we couldn't match that. He can obviously get that somewhere else so that's what he's chosen to do."
Olympian Peverley, back working in the Bay after earlier expressing his desire to make the All Whites cull and the Wellington Phoenix franchise in the A-League, says he always wanted to play for the franchise.
"There's no hard feelings between the franchise and I. We couldn't come to a deal so we just went our separate ways," says the 24-year-old who has missed out on the initial cut to the Olympic qualifier against Mexico today but with several All Whites in danger of missing out if they collect another card in Mexico City this afternoon he could come into contention.
"Who knows what the future holds," he says of his hopes of playing for Bay United again.
Greatholder says the franchise offered the former American Major Soccer League player a contract and had every intention of keeping him around.
"We obviously don't have the resources and funding that other franchises have got.
"It's true, he's a local boy and he's around and we wanted him but he went another way."
Greatholder rules out any assumptions that a fair whack of the Bay franchise's budget went into signing up "marquee players" such as David Mulligan, Tomas Mosquera, Sean Morris and Jamie Mason.
"Cole's mind was made up quite early in the piece."
Bay businesses have backed the franchise with Mulligan's signing and that was well after Peverley had reached his conclusion.
"It's not a factor at all but we have to be strategic about how we use our funds so we've got to do what we think is right," says Greatholder, adding the franchise has a squad of 20 who need to be looked after as well.
Midfielder Mulligan is a former All White and ex-Waitakere United player.
Striker/midfielder Mosquera is in the Bay equation after New Zealand Football gave his former franchise, Youngheart Manawatu, the boot because of a series of poor campaigns that have left them predominantly rooted to the foot of the premiership table.
The Rovers player, who was the 24th man on the 2010 World Cup soccer roster, has settled in the Bay working for GJ Sports as a mentor with primarily youngsters at school.
In the warm-up game for Team Wellington against Bay United on November 2, Peverley played centreback in the 4-2 victory in Hastings.
Bay United created history last summer after making the playoffs for the first time in the history of the premiership.
Greatholder also collected the Team of the Year title at the annual Hawke's Bay Sports Awards earlier this year.
Bay-born or based players in this summer's squad include goalkeeper Richard Gillespie, reserve keeper Matthew Gould, defender Fergus Neil, captain/defender Bill Robertson, defender Danny Wilson, midfielder Tom Biss, defender Matt Bruin and defender/midfielder Matt Hastings.
Core players Conor Tinnion, Stephen Hindmarch, Jarrod Smith, Stephen Hoyle, Dakota Lucas, Rudi Bauerfeind and Joshua Margetts are notably conspicuous in their absence.
Greatholder says Bay-born Lucas decided to stay in Melbourne where he has been playing for the past two years.
Last Saturday, the Bay drew 2-2 with their national youth league side at Bluewater Stadium.
They have lost the other two warm-up games against premiership teams - 3-0 to last season's runners-up, Auckland City, and 2-0 to WaiBOP in matches played in Taupo.
Five Bay businesses - Tremain Real Estate, NZ Web Guide, Rothberry Insurance, Sport Hawke's Bay and the Quest Hotel - got behind the Bay franchise to help sign up Mulligan, 31, last month.
"If bringing in a player from outside the region helps to make our team more competitive and increase participation in football, then I'm all for it," says managing director of Tremains Real Estate Simon Tremain.
Franchise CEO John McGifford says without investment from the business community it can't sustain the cost of bringing in players of Mulligan's calibre and remain competitive in the premiership.
Mulligan was part of Waitakere United's premiership-winning side last summer before he injured his neck.
The franchise says the new signing will promote its ASB Junior Gannets membership scheme.
"He's a massive coup for us. He has been a pro footballer and is probably the biggest signing the Hawke's Bay football have ever made," Greatholder says.
Born in Bootle, England, Mulligan made more than 180 appearances in the English Football League between 2000 and 2008, also as a defender.
He moved to New Zealand to play for the Wellington Phoenix in 2008 but didn't find traction there before joining Auckland City in 2010.