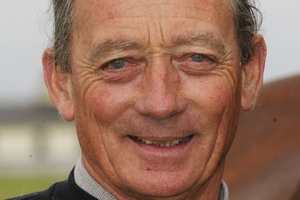 The word is champion jockey Jimmy "The Pumper" Cassidy can be a little edgy and somewhat superstitious when the big races come around.
The Sydney-based, New Zealand-born rider will be the first to attest to that with a "yes and no" when asked, considering it doesn't get any bigger than the 153rd Melbourne Cup today.
But don't mistake that response for Cassidy's mindset when the 3200m race that stops two nations begins at 5pm (NZ time) at the Flemington Racecourse, Melbourne.
After all, a healthy dose of jangled nerves is always welcome in any sporting arena of contention.
"There's never ever been a winner out of barrier 18 before and, if anyone can do it, I can," says the 50-year-old from a Melbourne pub two sleeps before the world's richest "two-mile" handicap in the world for 3-year-old and over horses.
Cassidy will be on Hawkspur, a 4-year-old gelding that Kiwi-born trainer Chris Waller trains.
Ask the Lower Hutt-born why he's so confident and the two-time cup winner, relaxing with his brother-in-law, Charlie Ackland, after a sauna workout, replies: "Self-belief. I never let anyone tell me I can't do anything."
Normally that sort of retort can be perceived as utter disdain but Cassidy on Saturday backed his talk up with 100 group one wins in Australia on another Waller-trained mount, the star Sydney colt Zoustar.
In fact, during the course of the interview the wily campaigner tempers that brashness with a perception of his existence that projects him as a bloke who hasn't got his head buried in the clouds.
"Things come to those people who wait."
And, boy, does Cassidy know that. He served a five-year apprenticeship with trainer Patrick Campbell in Hastings in his early teens.
The rookie didn't cross the line first for what Campbell says was an incredibly long time in the industry - way enough for any other youngster to have jumped off the saddle in a huff, never to return.
"Sixty-six, actually, before I had my first win" says Cassidy, the moment still vividly etched in his mind like his first ride in Wairoa in 1978. "I was 12 seconds behind in the race just before I got my first winner."
It came on a 5-year-old gelding, Tarlton, in Hastings which Campbell's father, the late Felix Campbell, trained and co-owned with Wellingtonian LA (Laurie) Mills.
Patrick Campbell had thrown him a lifeline reportedly on the heels of unsuccessful attempts to secure an apprenticeship with Allan Kaye and Peter McKay.
"I had good time working with Patrick. He was a great boss. I love the man for that, you know," Cassidy says.
"He looked after me and send me in the right direction because I was a bit of a wild child.
"He pushed me along. He never stopped me and always gave me the opportunity to do things," he says, lauding Manawatu master trainer, the late Noel Eales, in the same breath after an adroit Campbell sent him off from his Hastings stables.
"We're [Campbell] still good mates so we catch up every time he comes to Australia."
He is equally indebted to trainer NZ Hall of Famer Graeme Rogerson, of Hamilton, his wife, Debbie, and his mother, Alice Rogerson, for boosting his fledgling career.
"Graeme, Debbie and Mrs Rogerson were the people who flew me all over New Zealand when I won my first premiership there. I dearly love them all, too."
Cassidy famously scored his first Melbourne Cup winner in 1983 on Kiwi as a 20-year-old, riding the horse from last position into the straight.
"It'll be exactly 30 years to the day on Tuesday [today] when I won my first cup on Kiwi so it'll be nice to win it again for the third time."
His second cup victory came on Might and Power in 1997. The following year he rode the same mount to Cox Plate success at Moonee Valley, where he has 19 career rides.
He also won the Caulfield Cup on Diatribe in 2000. It'll be his 21st Melbourne Cup ride today. He has won the Australian Derby three times - 1990, 1993 and 2009. He won the Golden Slippers in 2001.
Cassidy, who would love to be guest speaker at the Rush Munro's Hawke's Bay Spring Racing Carnival if invited some day, has a philosophical outlook on life.
"What you put in to your life is what you'll get out of it," he says.
It still resonates with him advice from Campbell in his teens about how it's easy to win races but even harder to stay on top.
Cassidy did stumble at times but resolutely worked his way back into the elite flock, amid calls from some racing scribes and pundits that he should retire.
"I'll retire when the time is right. I won't ever let anyone tell me when to do it.
"I'm very happy with the way things are going for me because I'm taking every day by day, week by week and year by year."
Blessed with a job he cherishes, he kisses wife Nicki and "three beautiful daughters", Nicole, 26, Sarsha, 24, and Piper, 9.
"If you have a happy wife, you'll have a happy life.
"If I give up my job tomorrow it'll be for my family," he says, adding that his parents, Blue and Francie Cassidy, live with him, too.
Cassidy accepts he's made money, enough to feed his family and occasionally donate to mostly Australian charities such as child cancer and children's hospitals.
"I don't like to publicise such things. I've lost more money than I earn and have given away quite a bit but I'm not a charitable person.
"Hopefully I'll leave something behind for my children."
He remains fiercely loyal to New Zealand and everything Kiwiana.
"If you cut my veins you'll find I'm Kiwi through and through."
Two things he champions most - racing and All Black captain Richie McCaw.
"If McCaw was a horse he'd be Phar Lap or Black Caviar. He's a freak.
"Mate, I'm tough but he's tougher. He's my idol."