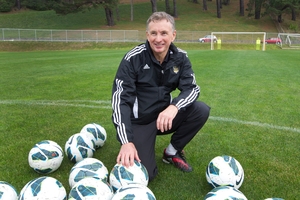 No points for guessing why two decades ago Michael Fenton named his son, Louis Ferenc Puskas Fenton, after the former Hungarian international.
Not only did the soccer-mad dad follow that up with backyard kicks with his offspring at their Wellington home from an age of reason but he also gave him judicious advice during his formative years.
"It was Dad's idea to go to Melbourne because the Victorian League is better than the [ASB] Premiership here but just below the standard of the A-League," says the 20-year-old player before the Wellington Phoenix host the Newcastle Jets in Napier on Sunday.
The third-round encounter, which kicks off at 5pm at McLean Park, will be a historic occasion because it's the first time an A-League game will be played here.
Ticket sales are sluggish so far for the clash at the traditional home of the Hawke's Bay Magpies and international cricket but organisers suspect the home fans are habitually walk-up types although the incentive to buy tickets early is a $10 saving for adults.
The Phoenix, after a 2-1 defeat to Brisbane Roar in Wellington and a courageous 1-1 stalemate away against Western Sydney Wanderers last Sunday, go into the Napier match as favourites under new coach Ernie Merrick.
Fenton, of the same ilk as the late Puskas, albeit admittedly not his pedigree, sees himself as an attacking midfielder/winger but Merrick has bracketed him as a rightback.
He hopes to make a start for this season on Sunday provided his dislocated shoulder, injured in a pre-season game against New Zealand A a month ago, receives a thumbs up from the team medics.
Standing at 1.72m and weighing 70kg, Fenton doesn't really fit the mould of a defender.
If anything, he is on a similar path to Kinetic Electrical Hawke's Bay United midfielder-cum-defender Fergus Neill who built a profile in the midfield but found himself in the rear guard following a New Zealand age-group trial in Auckland.
"We have a new coach with new ideas so he's playing me at right back. It's a new experience and I'm learning. I was definitely soft at the start but with more training I'm getting better," says Fenton who made his A-League debut against Sydney FC on October 6, last year.
It was a memorable induction to an elite level after he scored a spectacular goal from a diving header to finish a Manny Muscat cross.
In 25 appearances for the Wellington franchise under Ricki Herbert last season, Fenton scored three goals.
The New Zealand Under-20 and Under-23 representative this year has a penchant for finding the net, scoring four times in five appearances in the international arena.
"I'm a fast, attacking player who likes to dribble but I'm also not shy to tackle," Fenton says when asked to put his prowess in a nutshell.
Merrick begs to differ that a towering stature is a prerequisite to impenetrable defence.
He alludes to the career of retired Brazilian left back Roberto Carlos who is marginally shorter than Fenton but not far off in stature.
"He was tough in tackles, defended well and also attacked so Fenton has all those qualities and can be just as tough a character as them," says the Scotsman who has led the Melbourne Victory to A-League bragging rights.
Fenton is indebted to THAT goal and, no doubt, it did wonders for an apprentice in the A-League.
"For me it was one goal but I had to move on to the next game.
"It did help people recognise me and it gave me confidence," he says, revealing it will be harder to score more goals although his aim is to boost his tally from last season.
He is confident with his recovery after coming through several serious training sessions in the past few weeks.
Fenton says with the return of All Whites, such as captain Andrew Durante, Leo Bertos and Jeremy Brockie, the Phoenix are looking stronger.
The former Tawa College pupil played for Tawa AFC before jetting off to the Victoria Premier League where the 17-year-old plied his trade for St Albans Saints Club and the Melbourne Knights.
Following his father and mum Lindy's advice, the teenager gave himself a better chance of turning professional.
"There was a lack of opportunities in New Zealand," says Fenton who played two seasons with Tawa AFC in the winter Central League and a season of summer Premiership with Team Wellington.
As an overseas player his chances of making the cut in the cut-throat Melbourne Victory squad weren't easy.
Playing football forthe All Whites is also on his agenda but Fenton knows if he focuses on the here and now the rest will take care of itself.
Merrick says Fenton's progress from injury is "fantastic" although he'll need a clearance from a specialist to play.
"I'm not sure if he'll start because I'm big on continuity so I don't like chopping and changing all the time."