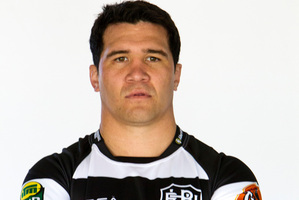 Karl Lowe never doubted his Hawke's Bay Magpies rugby side's ability to reach the ITM Cup Championship final.
"I always believed and talked about getting to this stage of the season. It goes back to our pre-season camp in Taupo ... it was one of the best camps in my time with the Magpies and when I left Taupo I knew we had one of the best ever teams."
However, there have been times this season when Lowe doubted his chances of reaching 100 first-class games for the Magpies, a milestone he will achieve when he runs out for Friday night's final against the Tasman Makos at Nelson's Trafalgar Park.
"It's been frustrating at times particularly when I've had to miss games with rib and hamstring injuries," Lowe, 29, said during a Magpies day off yesterday.
"With the short turnaround between Sunday's game and the final the coaches and leadership group decided it would be good to have a day off to freshen up before taking on the Makos."
The extra day off gave Lowe, who will start a two-year Japan-based playing contract in April, more time to reflect on his first-class career which began with an 11-10 win against Bay of Plenty at Napier's McLean Park on June 30, 2004. The former Maori All Black and Hurricanes flanker rattled off his Magpies highlights with ease.
There was the 2007 38-35 quarterfinal win against Waikato, the three consecutive semifinal finishes in '07, '08 and '09 and the wins against Wellington in '07 8-6 and this month's 35-24, both of which were at McLean Park.
"Watching the boys win the Ranfurly Shield against Otago from my couch at home when I was injured was pretty special too," Lowe said.
"There have been many times when we have been the underdogs but have battled above our weight. Whenever a team plays us they know they are going to have a battle ... every team respects us."
The Magpies' 11th centurion is full of praise for the work done by a core group of players during the late 1990s and early 2000s to get the Magpies up to the top echelon of the toughest inter-provincial competition in the world.
"The future looks good too with the likes of Ihaia [West], Gillies [Kaka], Brendon [O'Connor], Michael [Allardice] and Mark [Abbott]. If Hawke's Bay can keep this core of boys this province can build on something special. While Mike Coman will be a huge loss, the Magpies will be in safe hands," Lowe said.
There have been no shortage of tough times for Lowe in Magpies colours too. He has had some cruel injuries and his temporary switch to the hooking role during the 2006 season was hard going.
"Playing hooker made me appreciate what is done up front and how important frontrowers are. I have so much respect for frontrowers now."
While Lowe, one of the Clive club's favourite sons, has had plenty of time for reflection he knows his Magpies job won't finish until he helps the Magpies win the final against the Makos and gain promotion backs to the Premiership they were relegated from last year.
"The Makos are a good side. They play with plenty of flair and are running hot at the moment. To upset them we have to take their confidence away.
"We have to stick to what works for us and not worry too much about them."
Lowe only had six minutes off the bench when the Magpies lost 18-9 to the Makos in Nelson last month before collecting his hamstring injury. Naturally he doesn't want a repeat of that episode on Friday.
Lowe is among the top tenpin bowlers in the Magpies and if can maintain that status in Friday morning's session on the alleys that could prove a lucky omen for Lowe and his teammates on Friday night.
We couldn't let Lowe lace up for his 100th first-class outing for the Magpies without naming 'Lowey's Magpies 22,' a selection of the best Magpies he has played alongside since his 2004 debut. In typical Lowe fashion he declined to select himself, either as a starter or sub, and gave the No7 jersey to Nui Bartlett.
"Nui is the most talented player I have played with.
"He had unreal talent and skill and would have gone a long way had it not been for his career-ending neck injury in 2006," Lowe said.
Here is "Lowey's 22": Israel Dagg, Richard Buckman, Jason Shoemark, Andrew Horrell, Zac Guildford, Kahn Foutali'i, Chris Eaton, Mike Coman, Nui Bartlett, Michael Johnson, Bryn Evans, Brodie Retallick, Clint Newland, Hika Elliot, Sona Taumalolo. Substitutes: Forwards, Ash Dixon, Anthony Perenise, George Naoupu, Mutu Ngarimu; backs, Danny Lee, Matt Berquist, Gillies Kaka.