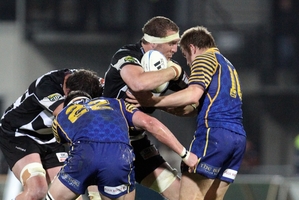 A sign of a quality captain is one who puts his or her teammates before his or herself.
Hawke's Bay Magpies rugby team captain Mike Coman ticks this box as well as every other one when it comes to quality captains.
It would be easy for the Magpies blindside flanker to talk about his hunger for a winning ITM Cup Championship semifinal and final before he leaves the Magpies to start a two-year deal with Scottish Pro 12 club Edinburgh next month.
But there was none of that sort of talk from Coman before he took charge of the Captain's Run at McLean Park, Napier, yesterday in the build up to tomorrow's semifinal against the Otago Razorbacks at Dunedin's Forsyth Barr Stadium.
Instead Coman, 26, spoke about the importance of winning the match to give fellow loosie Karl Lowe the chance of playing his 100th first class game for the Magpies in the final.
"Lowey has done so much for the Magpies. It's important we give him that chance," Coman said of the former New Zealand Maori and Hurricanes flanker who made his debut for the Magpies in 2004 and will next year be playing in Japan.
Coman agreed if Lowe, himself and fellow loosie Brendon O'Connor can perform like they did in last week's 35-24 victory against the previously unbeaten Premiership leaders Wellington they will have a good chance of beating the Razorbacks.
"It's not just about repeating that display it's about improving on that.
"The breakdown will play a big part in the game and the Otago loosies have been trucking well also. The quest for improvement applies to the entire team not just us loosies. We had a good performance against Wellington and whatever the boys found in themselves for that win must be found again so we can improve on it ... we have to keep improving."
Coman pointed out the Lowe, O'Connor and Coman loose trio mix is the right one to start with.
"Brendon is playing so well and Lowey is so strong over the ball. We've also got depth in the loosies on the bench. Mark [Atkins] has got good speed and Trent [Boswell-Wakefield] is so tough he makes a hell of a difference when he comes on."
Coman also pointed out there has been a further twist for the better in the travel arrangements saga which has hovered over the Magpies this week. Because tonight's All Blacks-Wallabies Bledisloe Cup test has attracted a capacity crowd of 29,000 accommodation in Dunedin was hard to come by earlier this week and flights in and out of the city were also chokka.
However, Coman said the Magpies had scored a direct flight from Napier to Dunedin which is scheduled to arrive at 3.30pm today.
"With that corporate cancellation we heard about earlier in the week we've got a pretty flash hotel," he said.
"It's worked out perfect ... there will be no excuses.
"Apart from having a home semifinal we couldn't have it better. With an indoor venue we know the conditions will be dry no matter what. From previous experience we know it's a pretty enjoyable place to play ... we're pretty excited about it all," Coman said, referring to the Magpies' 20-19 win in the September 1 Ranfurly Shield challenge against Otago in Dunedin.
"It's a lot better than one option which saw us flying to Christchurch, staying there and then getting up at 6am on Sunday to prepare for a 7am flight to Dunedin. Just imagine all the moaning which would have gone on if we had to do that," Coman said. He has heard talk about the possibility of the Magpies hosting a home final on Friday night if they win tomorrow and Southland upset Tasman today.
"A home final is out of our control," he said.
"It's crucial we focus on what we can control and at this stage it's the outcome of our semifinal."
Again the type of talk we have come to expect from a quality Magpies captain.
As expected Magpies head coach Craig Philpott and his assistant, former Otago halfback Danny Lee, have stuck with the same 22 players used in last week's win against Wellington.