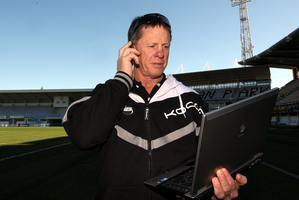 Hawke's Bay Magpies rugby team manager Neil Weber had the appearance of a flustered travel agent rather than a sports team boss yesterday.
The Magpies' travel arrangements for this weekend's ITM Cup Championship semifinal trip to Dunedin were still far from finalised when the Magpies finished training at Napier's McLean Park yesterday afternoon. Weber pointed out one option was for the side to fly to Auckland on Saturday before catching a flight to Christchurch.
This would mean the Magpies would stay in Christchurch on the night before Sunday's 2.35pm semifinal against Otago at Forsyth Barr Stadium. It would also mean a 7.05am flight from Christchurch to Dunedin on game day.
After the game the Magpies would bus back to Christchurch, stay there another night and then fly back to Napier on Monday through Auckland.
"If we went with this option we would have to organise a pre-game feed in Dunedin and then kill a bit of time. We have to try and avoid the bus trip back to Christchurch after the game," Weber said.
"We have to plan as if we are going to win on Sunday and then have the best possible buildup for the following Friday night final. Hopefully we can get a charter flight out of Dunedin on the Sunday night after the game back to Napier which will be more suitable with the short turnaround ... particularly if we end up having to fly to Nelson on the Thursday," Weber explained, referring to a possible final against top qualifiers Tasman who host Southland in the other Championship semifinal on Saturday.
The Magpies' likely chaotic travel plans are a result of the All Blacks' Bledisloe Cup test against the Wallabies in Dunedin on Saturday night. This match has attracted a sellout crowd of almost 30,000 which means there is no accommodation available in Dunedin on Saturday night to cater for the Magpies' travelling party of 30.
"We could not have got the worst venue at the worst time. Under normal circumstances the Forsyth Barr Stadium would be the best venue to have outside of McLean Park," Weber said.
"Another of our options involves splitting the team up for flights and we don't really want that either," Weber added.
Regardless of how the team travels south at the weekend it will be the Magpies' second visit to Dunedin in six weeks. On their previous visit they returned home with the Ranfurly Shield after a 20-19 victory against the Razorbacks.
This fact alone means the Magpies shouldn't be short of confidence when they arrive in Dunedin on Sunday. There was significant Magpies support on that occasion.
It will be interesting to see how many Magpies supporters, apart from Dunedin-based university students, can make a trip south to support the Magpies. Like the team, supporters are unlikely to have an easy route south.
It's situations like this which should only make the Magpies more determined to win and Magpies supporters more determined to get to Forsyth Barr Stadium and drown out their Otago counterparts. As Hawke's Bay Rugby Union commercial manager Jay Campbell said at the weekend ... there is still a chance of the Magpies hosting the final at McLean Park on October 25.
For this to happen the Magpies must win on Sunday and Southland must beat Tasman on Saturday. The topsy turvy nature of the ITM Cup this season has proven the unexpected can never be discounted.
After all few pundits, outside of the Bay, tipped the Magpies to beat Wellington last week and even less predicted the Razorbacks' win against Auckland on Sunday.
While the Magpies' travel plans were yesterday still "up in the air", if you'll excuse the pun, the news was much brighter on the injury front. Midfield back Andrew Horrell's leg injury was the only concern after last week's 35-24 win against Wellington in Napier.
However Magpies physio Mark Nicol said yesterday he was confident Horrell will be declared fit to play come match day.
"We've wrapped him in cotton wool for a couple of days. But the chances of him playing are pretty good ... those South Island boys are pretty tough."