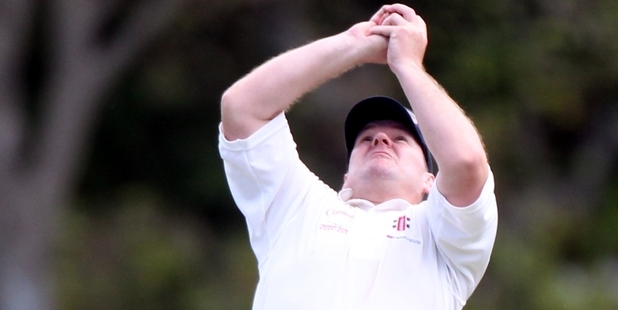 Something's always cooking under the covers but any time water seeps in you can bet your bottom dollar it'll add more zing.
Hawke's Bay premier men's club cricketers found that out pretty smartly on Saturday when the second round of the HBCA 110-over matches were played.
Captains who had the first call after the flip of a coin adroitly put the opposition in to bat on juicy wickets.
Two results vindicated their decision to shine the ball but one strayed from the plot like a wide delivery.
Did that mean the decision was bad or did the losing side fail to bat or bowl with conviction?
NTOB v Taradale
Defending champions Complete Flooring Napier Technical Old Boys kept to the script after winning the toss to crush Taradale outright by nine wickets at Nelson Park, Napier.
The hosts had the visitors back in the pavilion for a paltry 89 runs in 37.2 overs.
Only Kieran Noema-Barnett put up some resistance for 27 runs for Taradale while skipper Toby Doyle added 16 with just two other batsmen eking out double figures.
"The wicket was not the easiest to bat on in the morning but we didn't bat well either," Doyle said.
Openers Stevie Smidt (3-23) and Craig Herrick (2-20) created havoc although Ruan Markram (3-27) and Hudson Craig (2-18) kept the pressure on the batsmen.
"Stevie and Craig were almost unplayable," NTOB captain Morten Freer said.
"Barney [Noema-Barnett] was a big wicket for us," Freer said.
In reply, the Dale Smidt-coached NTOB took 19.3 overs to eclipse the total with 90-1.
Sri Lankan Indika Senarathne smashed 52 from 53 balls while Jayden Lennox was unbeaten on 36.
Freer said some rain water had taken hold at night while a little more seeped in under the covers in the morning.
"We still had to go out to bat well.
"It sounds simple yet you've got to go out there to do the job."
CHB v Havelock Nth
Captain Scott Schaw had no intentions of deviating from the norm at Ongaonga Domain in Waipukurau after winning the toss.
"We were under the covers so it did a bit for the bowlers," Schaw said as Central Hawke's Bay Ruahine Motors Ford Central Hawke's Bay claimed an outright seven-wicket victory over Havelock North.
The visitors were skittled for a miserly 109 in 48.5 overs with S. Franklin top scoring with 43 and Mathew Goodwin adding 31.
Charlie Robson claimed 4-22 while Brendon Bracewell Academy player Zac Jones, of England, took 4-14.
The wicket was slow and grabbing even during the hosts' innings of 110-3 in 35.1 overs.
The Devon Hotel Central Districts pair of Ben Smith (29 runs) and Kruger van Wyk (37) were the main contributors.
"No matter what, we would have bowled first and they would have done that, too, so we were happy to get a win.
"I know small totals like that can trip many teams," Schaw said.
Cornwall v NOBM
This clash was an aberration after Napier Old Boys' Marist padded up after losing the toss but came away with a winning draw from a rain-reduced 47-over affair at Cornwall Park, Hastings.
The Mathew Sinclair-coached/skippered NOBM side amassed 241-5 in their allotted overs.
Again showing he could have carried on in domestic cricket if he wanted, Sinclair laid the foundation with 92 runs from 73 balls, including 14 boundaries and three sixes.
Harry Ghodke added 64 and Jesse Singh was two shy of a half century.
Heretaunga Building Society Cornwall right-armer Joe O'Connor claimed 3-50.
In reply, the hosts managed 149-5 in 47 overs, with opener Seb Langridge scoring 42 runs, leftie Scott Brocklehurst added 31 and Jerome Groot emulated his score. Sinclair claimed 3-30 while CD seamer Andrew Mathieson took 2-37.
"I was happy with our batting, especially taking some kudos myself in establishing partnerships with Harry and Jesse," Sinclair said.
However, he lamented his bowlers' inability to make the most of a new ball to claim the top order batsmen early.
"The outfield was much quicker than I thought."
After a week of indoor sessions in Palmerston North with the CD squad, Sinclair said Mathieson struggled to adjust to the outdoors.
Cornwall skipper John Jowsey said it wasn't a bad result considering he had a predominantly young team.
Jowsey found comfort in promising knocks from St John's College pair of Brocklehurst and Groot.
"It's a handy Napier Old Boys side with players like Sinclair and Mathieson so they have a pretty decent line up."