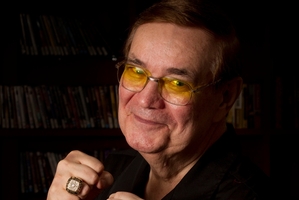 It's the colonel calling - "Colonel" Bob Sheridan, to be more precise.
But his understanding is Jack and Jill Public will know him more as the bloke who calls the mother-of-all boxing matches.
It's a phone interview from Auckland and, boy, is the non-military colonel switched on before the Joseph Parker v "King" Afa Tatupu heavyweight fight tonight.
The Boston-born motor mouth sprays like a staccato of machine-gun fire, some bullets having the impact of hand-grenade proportions.
Here's one volley: "Joseph Parker has the potential to earn $2 billion. He'll make $50 million in his first two years so if he can handle that he'll make a billion."
Here's something else to chew on: "Joe Parker will be like Manny Pacquiao, who is considered a saint in the Philippines.
"He can be like Muhammad Ali who brought together Muslims and Christians and Blacks and Whites."
You see, pound for pound, Sheridan reckons Parker is ahead of former boxing legends such as Ali, Joe Frazier, Sugar Ray Leonard and Roberto Duran, at his age.
"Joe at this stage is better than anyone. I won't say potential.
"I'll say in three to five years he'll be the heavyweight champion of the world."
The mega bucks Floyd Mayweather rakes in is tantamount to small bikkies.
"We're talking about hundreds of millions of dollars so Mayweather's just a little guy," he predicts in anticipation of Parker's worth when the 21-year-old hits his mid-20s, let alone peaks in his mid-30s.
Is Sheridan guilty of embellishment?
People who will read this can be excused for casting aspersions on a sport notorious for building up bouts that more often than not end up in mismatches against journeymen or crumble to the canvas amid cries of dubious judging.
"I've earned the right to say these things. I'm in five halls of fame.
"I'm not saying it because I'm a big mouth and a broadcaster," is the counter punch from a man who has occupied a commentary table for more than 50 years.
Fight promoters Duco Events, Sheridan reveals, isn't paying him diddly squat. Sky TV is bankrolling him to broadcast the fights.
For someone who makes a killing from 10 to 15-minute interviews from TV shows in Europe and Pacific Rim, money doesn't motivate him either.
"I have nothing to gain. I just have respect for the sport."
Having warded off the grim reaper yet again following several heart attacks and awaiting a quadruple bypass in eight weeks, Sheridan comes across as a TV evangelist only the United States can propagate.
The Irish-American may be on borrowed time but, for the love of God, he hopes to chalk up another 25 years after more heart surgery.
"The Lord doesn't want to take me just yet.
"He had eight times to do that and he didn't," the 69-year-old says.
Consequently, Sheridan is content with spreading the gospel of pugilistic pleasures, a sport he adores and champions as a saviour of myriad economies.
Parker, the messiah, will trigger a renaissance that will help fill the coffers of not only the boxing capital of the world, his home state of Nevada, but also Auckland.
He hastens to add he's been to Hawke's Bay several times with Kiwi friend George Calvert, whose sister lives in Napier.
Calvert and his wife, Janet, have their names engraved on the sponsored belt which they will present to the winner of the Parker v Tatupu fight tonight.
His best friend, Parker's trainer, Kevin Barry, introduced him to the Calverts.
He acknowledges a quote his father borrowed from some famous person: "If you love what you do, you'll never work a day in your life."
In reality, that is contrary to what the son of a poor Irish immigrant does.
"My father was not educated. He was a hard worker in a sheet metal industry."
When his father once told him he was the first educated Sheridan in their family when he graduated from Miami University, Bob Sheridan replied: "If I knew half as much as you, dad, I'd be twice as much the man as you are."
He draws parallels between himself and Parker and his Samoan heritage transplanted in Auckland.
"The kid's background ethics, his family's religion and spirituality and all those things make him humble."
Sheridan, who feels he would have ended up in a US prison if he hadn't secured a college scholarship to play sports, belonged to the wrong crowd in his neighbourhood.
"We were immigrant kids - rough, tough, stole and cheated. We got lunch money and we could have killed for it.
"Dad got us out of the ghetto and changed my whole life," he says, attributing his success to college football, baseball, ice hockey and, above all, God's will.
"I see all that in Joe Parker so I relate to him," says the man who not only has had dinner with the Parker family but also done that with David Tua and countless other elite boxers in the quest of more than 10,000 bouts, including more than 1000 world title fights.
Tua, for that matter, could easily have been "in a cardboard box shelter as well, trying to commit suicide in South Auckland".
"He's more popular in the world right now but Joe will be bigger.
"He will be part of New Zealand history and make this country very proud of him."
Sheridan has the Rumble in the Jungle (Ali v George Foreman in Zaire) and the Thrilla in Manila (Ali v Frazier) historic bouts under his belt.
When Barry first asked him to check out Parker, Sheridan's verdict was brutally honest: "He can't fight but he has tremendous ability."
Three years on and a $1 million endorsement later (thanks also to Hydr8 Zero), Sheridan soon re-evaluated his assessment of Parker flourishing under the Barry stable.
The affable qualities of the raw professional and his humility are key prerequisites.
The pitfalls of professional boxing are ever-present but people will "step on each other" to fight this lad.
"Joe will make it unless he can't handle what happens and becomes lazy."
Sheridan has even prayed with Parker, introducing the Christian to Guru Gobind Singh's Sikh religious philosophy.
"This kid is spiritual so I want to be around him."
Let it be known that he believes King Tatupu can easily deck Parker tonight with a vicious knockout punch.
"In years to come, Joe will become a world champion and will find it's harder to retain a title."
A jet-setting Sheridan, who will hop from here to Florida, to Las Vegas before a job at the Vatican in Rome and a quick stop in Ireland in the next few days, doesn't consider himself a natural.
"I'm not as a good as Stephen McIvor [Sky sports presenter]," he says, revealing he defied medical advice and sobbing wife Annie's plea to take the 15-hour flight to New Zealand.
For a man who has had a penchant for bullfighting and rodeo riding, living the life of a millionaire has been pockmarked with pot holes.
Gory visions of blood and guts are still etched in the mind of the broadcaster who isn't shy to draw parallels between raging bulls and boxers, pointing out he's covered at least five gruesome fights of life and death.
"It's not just about maiming but killing and that's a strong statement."
Divorces and taxation issues later he has turned to religion, amid heart attacks.
These days he yearns for longevity in broadcasting heaven.
"Calling fights is like oxygen for me. I'm willing to die for a fight.
"If I die calling a fight I'll be happy. I'm not reckless - just happy and love it."