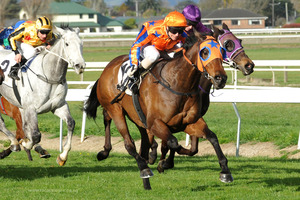 If her name is anything to go by then she's already a winner.
But check out Thrive's credentials and you can be forgiven for going ... mmm ... even if you aren't racing savvy.
Is it a case of taking a sandwich to the banquet? You be the judge.
The 6-year-old Bay mare is a Group 3 winner, clinching the 1600m Merial Metric Mile in Awapuni early last month.
The Jason Bridgman-trained Thrive has won five races out of 17 to date but the Metric Mile is her biggest win.
She's a very late entry into the Group 1 Turks Spring Classic today in the final leg of the Rush Munro's Hawke's Bay Spring Racing Carnival at Hastings.
Hawke's Bay Racing committee member Ken Browne bred Thrive, who is the fourth foal of Trove, a Lowry stud breed from Hawke's Bay, sired by Colombia who is by Zabeel.
Browne is the first to agree if there were better horses Thrive wouldn't have stood a chance.
Mufhasa, Xanadu and Final Touch are conspicuous in their absence from the previous two spring carnival meetings.
"She prefers a softer track so Jason Bridgman will have to be on top of his game," says Browne, adding it is a risk to race Thrive over 2040m when she hasn't pushed the 1800m mark.
Primarily in a "pretty even field", she's a chance to add value to her Group 3 win to boost her resume as a broodmare.
"We're paying a late entry fee, which is not an insignificant amount [about $4400] so a fifth placing will get more than that money back," Browne says.
Agreeing it's definitely a big step up for Thrive, Bridgman says on paper class and distance don't favour his horse.
"A few factors are up against her but it's the best thing for her career."
He feels mares have a tendency to hold and show consistency after attaining a certain standard "so it's an opportune time to give her a crack".
"She's good enough for one run although she's lacking class necessary for group 1.
"She'll quicken up but she doesn't have turn of feet that is classic of proven group 1 horses."
Not wanting to sound disrespectful, Bridgman says today's classic lacks quality in the field to previous ones so that's why they were successful as a late entry.
He isn't worried about Thrive's stamina because she is capable of something out of the ordinary.
"If she wasn't working like she is, we would not even attempt it.
"She'll have to have a lot of luck so we're up against it in distance and weather," he says of Thrive who will have stable rider Matt Cameron in the saddle.
While based in Matamata for 11 years, Bay-born trainer Bridgman is involved in his first Group 1 race of the spring carnival.
The 42-year-old, who was raised at a farm in Crownthorpe, about 10 minutes north of Okawa Stud where he got his first job with horses, left the Bay to acquire tertiary education in the agricultural sector before travelling around the world to work.
"I did applied science in horticulture but horses were always my passion," says Bridgman, whose father Bill is retired in Waipukurau.