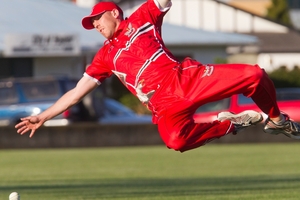 WORK commitments meant they could only have 10 players on the field but that didn't stop Karori Cricket Club from lending credence to their favouritism to bag their second title in Hawke's Bay.
The Hamish Templeton-skippered Karori side, who won the inaugural bragging rights in 2011 of the annual Kilbirnie Sports HBCA tournament, crushed defending champions Heretaunga Building Society Cornwall CC by 57 runs at Frimley Park, Hastings, yesterday in the first round of play.
Asked if the Wellingtonians were favourites, a laughing Templeton replied: "I'm not sure. Cornwall should be favourites."
Today the visitors will have their remaining two players joining them for the match against Taranaki Wanderers in the morning at Nelson Park, Napier, before locking horns with Grafton United CC (Auckland) at the same venue in the arvo.
Only the top qualifiers from each of the four pools will make tomorrow's playoffs at Nelson Park.
Templeton said the Cornwall bowlers learned pretty smartly about line and length.
"They bowled too full on a sticky pitch so it was good to knock off the defending champions," he said, accepting they too have a couple of key players missing.
Karori made 152-6 in 20 overs with Wellington Firebirds captain Stephen Murdoch opening with 46 runs while Matt Atkins scored 39 and Tom Blundell added 30.
Cornwall's Liam Dudding took 3-32 but none of the bowlers were below 6.25 runs an over.
In their reply, Cornwall were 95 all out in 17.4 overs with legspinner Andrew Newson taking 4-12 on debut. Charles Gallagher (2-5) and Fletch Te Aika (2-7) were also the most frugal.
On the adjacent field, Craft and Hern Havelock North CC made short work of Kapiti Old Boys with a nine-wicket victory.
Devon Hotel Central Districts seamer Ben Wheeler ripped the heart out of the visitors with a six-wicket blitz, including a hattrick in his last three balls off 3.3 overs.
Wheeler, who has been working indoors with new Stags coach Heinrich Malan in Napier, bowled out all his batsmen, who departed for four ducks and one.
The tail-end hattrick came from Kapiti top scorer Shane Ryan for 22 at No 8. Brother Glenn Ryan at No 11 and No 10 Hayden Cobeldick were the other two who didn't get off the mark.
The top order of No 2 Alex Jones (duck), No 3 David Schlup (1 run) and No 4 Mathew Patterson (duck) were his other scalps as Kapiti were 71 all out in 19.3 overs.
The villagers eclipsed the total with 72-1 in 11.3 overs with captain/opener Todd Astill 18 not out while No 3 Graeme Tryon was unbeaten on 33.
Astill said they had some cricket-savvy players such as Jared Priest, Stu McVeigh and under-19 national rep Tryon in the mix with Wheeler's superb effort.
"Any team would like to have a bowler of Ben's quality so we'll use him as much as we can this season," he said, addin the tourney was all about getting out in great Bay weather to have some fun before the club competition starts next weekend with the onset of daylight saving at 2am tomorrow.
"If it gets 10 degrees warmer than what it was today then you won; t be looking forward to getting out there too much."
Kapiti captain Schlup didn't want to take anything away from Wheeler but felt the semi-plaster type of wicket had a lot to do with his team's demise.
"The ball held up a little to provide Wheeler prodigious movement into the right handers," he lamented but reconciled that with the fact that they all had batting prowess, bar the "genuine tail enders".
At Nelson Park, Taradale CC had an eight-wicket victory over Onslow CC (Wellington).
Last summer's CD Stag skipper Kieran Noema-Barnett was in a bolshy mood, with an unbeaten 50 runs, including four sixes and three boundaries, as they chased down the Wellingtonians' 133-4 in 16.5 overs with 138 for the loss of two scalps.
No 2 Luke Kennedy was unbeaten on 48 with five fours and a six.
Onslow's S Keegan was 74 not out with A Fletcher adding 26.
Teenager Ben Stoyanoff took 2-38 but CD spinner Ajaz Patel and G McPherson were the most frugal.
The Station Napier Old Boys' Marist, with retired CD player Mathew Sinclair at the helm, had an agonising six-run loss at the hands of Wellington Collegians.
The visitors amassed 139-6 in 20 overs with S Debur top scoring with 37 runs, D Rae unbeaten on 29 and J Wilderstrom adding 28 although NOBM gifted 29 extras.
CD Stag Roald Badenhorst took 1-15 from his four overs while Sean Daniels took 2-30.
In reply, NOBM could only muster 133-8 in 20 overs with Bevan Pollock scoring 31 runs, Sinclair 24 and Badenhorst adding 19 with Josh O'Brian emulating him.
Left-arm orthodox spinner Senthil Selvaratnam was the pick of Collegians' bowlers, taking 4-26.
"My best bowler was Brendan Quinn who was economical at four an over," Sinclair said, adding the club had established a tie with St John's College of Hastings and were reaping the benefits of that with talented youngsters such as Quinn who had potential to become a Bay representative.
"We lost in the last over but it was great to be outdoors on great wickets in brilliant Bay sunshine," the record holder of myriad CD batting accomplishments said.
Complete Flooring Napier Technical Old Boys didn't have the best start, losing to Hutt Districts after a paltry total.
At Ongaonga Domain, Ruahine Motors Central Hawke's Bay succumbed by five wickets to New Plymouth Old Boys.
The hosts amassed 119-5 in 20 overs with Angus Schaw scoring 33 and Henry Hunter adding 30.
The visitors, with Jamie Watkins and Will Young in the mix, eclipsed the total in 18 overs.
"We were very poor but we're a little weak this year," CHB's James Mackie said after.
The composite Taranaki Wanderers lost by three wickets to Grafton United CC to show the Aucklanders will battle.