T20 boom sees HBCA consider invitation event.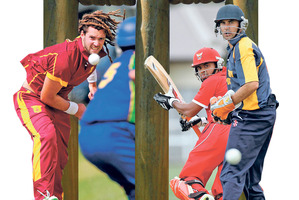 Build it and they'll come is what they commonly say in sporting parlance.
They certainly have this year, if the Hawke's Bay Cricket Association's three-day annual Twenty20 tournament is anything to go by, in just its third season.
As a result, CEO Craig Findlay is contemplating entries next summer on an invite-only basis for teams outside of the Bay after a record 16 teams will compete from today.
"It's becoming a North Island tournament so we'll probably choose teams which started coming here first up," Findlay says as three teams from Wellington, two from Auckland, two from Taranaki and one from Horowhenua-Kapiti also threw their hats into the ring for the Kilbirnie Sports-sponsored tourney.
It is a jump from nine teams last summer when Heretaunga Building Society Cornwall CC beat Ruahine Motors Central Hawke's Bay to win the tourney to become the first Bay club to claim the bragging rights.
Karori Cricket Club, of Wellington, won the inaugural one in 2011 after beating Cornwall in the final.
With the Hastings and Napier councils coming to the party this year in preparing the Frimley Park and Nelson Park wickets a week earlier, it meant clubs from the other regions, bar the capital city, could compete because their club competitions start the following weekend akin to the Bay one.
Wellington start later next month.
"We'll have four pools this time playing round-robin matches with the top qualifiers from each pool going on to play in the semifinals on Sunday from 10am at Nelson Park," Findlay says, adding other non-qualifiers' pool crossover matches will be played from 10.30am on Sunday .
The first round of games begins at 3pm today with Ongaonga Domain in the mix as venues before resuming on Saturday with two games each.
Cornwall are the first to admit retaining their crown won't be a given as they face Karori first up at Frimley Park.
"It's quite an open tournament field. Hawke's Bay teams aren't as strong as they used to be," Findlay says, alluding to players on international duties and those who are playing overseas or still at university.
Besides unknown quantities from Auckland and Taranaki, there's the calibre of first-class players to contend with in some teams, especially Karori who ooze favouritism with Wellington Firebirds skipper Stephen Murdoch and Devon Hotel Central Districts Stags seamer Andrew Lamb in the mix.
A composite Taranaki Wanderers outfit have retired CD batsman Peter Ingram and current Heinrich Malan-coached squad member Dean Robinson.
New Plymouth Old Boys have CD rep William Young and provincial stalwart Jamie Watkins in their ranks.
The other capital city sides include newcomers Wellington Collegians, Hutt Districts and Onslow Cricket Club, who former international Gavin Larsen manages. His son, Corey, is in the team.
Horowhenua-Kapiti's sole entry is Kapiti Old Boys.
Not much is known of the calibre of Auckland outfits - Grafton United CC and the 150-year-old North Shore CC.
Findlay says the Bay weather is a blessing, starting with an expected clear 21deg today, 19deg tomorrow and 18deg on Sunday, although increasing cloud cover is likely.
All the clubs have the provision to play a guest player.
CD Stag Roald Badenhorst, of Manawatu, is The Station Napier Old Boys' Marist's guest player while Aaron Noema-Barnett, the younger brother of CD captain last summer, Kieran, will play for Taradale Cricket Club who will be without the services of Black Cap allrounder Doug Bracewell who is the New Zealand A tour of India and Sri Lanka. The John Jowsey-captained Cornwall will be without prolific run scorer Carl Cachopa, also on NZ A tour, but ex-Black Caps and CD tweaker Tarun Nethula is in the equation.
The sponsors have gifted $600 worth of vouchers for MVPs.