Hooker's hoping to be the life of the party.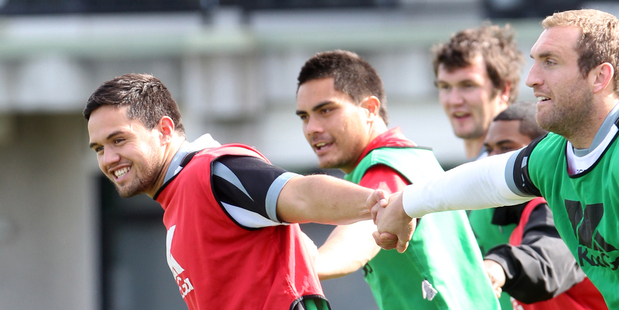 Not so perfect timing for Hawke's Bay Magpies rugby hooker Ged Robinson but perfect for his deputy Jesse MacDonald.
"The plan is to go down and spoil the bro's 50th," MacDonald said, referring to his brother and fellow hooker Quentin MacDonald who will play his 50th match for the Tasman Makos when they host the Magpies in a seventh-round ITM Cup Championship clash at Trafalgar Park, Nelson, on Sunday.
MacDonald, 23, has made the Magpies' 22 for the second time in this season's Cup (he had 10 minutes off the bench in last week's 23-10 loss to Taranaki) as Robinson and his wife Shaanti are expecting their first child.
With former Crusaders rake Quentin, who turns 25 on Wednesday, almost 15 months older, the younger brother has always taken a back seat to his Tasman opponent.
"We've usually been in the same team so this will be my first chance to play against him.
"Obviously I'm hoping for as many minutes as possible on Sunday," MacDonald said before the Magpies' training session at Napier's McLean Park yesterday.
Like most of the MacDonald clan in Marlborough (Makos assistant coach and former All Black Leon MacDonald is a second cousin of the brothers' father Paul), the brothers played for the Central club in Blenheim.
Paul, who also represented Marlborough, coached the brothers in Central age group teams and in 2010 played alongside them for the unbeaten Central premier team who beat Waitohi-Picton in the club final.
"Dad played prop, Quentin was at hooker and I was a flanker," MacDonald said.
"From what I hear, all of the family will be making the trip from Blenheim to Nelson on Sunday ... it's going to be interesting," MacDonald said.
His brother and the Makos assistant coach won't be the only Makos boasting plenty of knowledge on MacDonald.
The Makos' head coach and Magpies head coach from 2002-04, Kieran Keane, will have more than a note or two on the MAC club player.
Keane coached MacDonald during the three years he spent in the Marlborough Boys' College 1st XV from 2006-08.
The team were so successful that MacDonald did a second year in year 13 so he could play for them.
After spending last year in the Magpies' wider training group in his first year in the Bay, MacDonald became a fully- contracted Cup player this year as the third-string rake behind Hurricane Ash Dixon and former Junior All Black Robinson.
Despite his limited game time for the Magpies, he has no regrets about leaving Marlborough.
"There's a better club competition here in the Bay than back home, where there is usually only four or five teams. And I learn plenty off the likes of Ash and Ged."
In addition to developing his rugby skills, MacDonald has worked as a teacher's aide at Hastings Boys' High School. When he isn't at work, training or playing he is likely to be found working on his PlayStation scores.
"I'm the best in the Magpies team ... I carve up all the boys," he said.
McDonald is planning to stay in the Bay for a third season next year. Should he get on during the final quarter on Sunday and play a major role as the Magpies upset his brother's 50th for the Makos, MacDonald is unlikely to be welcomed home in Blenheim in a hurry.
Magpies head coach Craig Philpott will announce his team before training this afternoon. He was confident Chiefs utility back Andrew Horrell, who performed admirably off the bench in last weekend's win against Northland, would be available again.
Keane was also expected to name his side today. As well as the older MacDonald sibling, other handy players on the Makos' roster include talented loosie Shane Christie, outside backs Tom Marshall, James Lowe and Robbie Malneek and versatile forward Joe Wheeler.