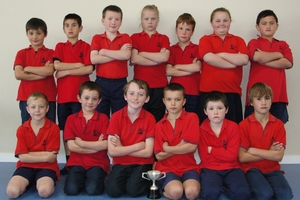 Winning an historic cup, first presented in 1921, was a highlight of the season for Norsewood and Districts School's rugby players, coach Quin Olsen said.
"Kids from our school won four trophies this season and it was a great effort for a small school," Olsen said.
The school's midget rippa team, the Chiefs, won the Conway Family Cup for best all-round rippa team, the second time they've won it since it was first presented in 2005.
The Norsewood and Districts midgets under-9 team also took out the cup for the most improved midgets, the first time a team made up of only Norsewood players had won it, Michelle Mitchell, the school's sports co-ordinator, said.
And William Robinson was awarded the cup for the best and fairest junior player in Dannevirke JAB rugby.
But it is Norsewood and District's seven-a-side team's great effort in winning the Jonathon Holden Challenge Cup, which has special significance, Olsen says.
"My family has been in this district for 120 years and for our school to win this trophy is very special.
"It was an awesome team effort. When I saw the trophy, I was blown away. It's got a 94-year-old history and was first presented in 1921, with some illustrious names on it.
"The cup was won by Norsewood in 1926, 29, 30, 31 and 36 and again in 20001. When I looked at the names on the cup, it's almost a who's who of Norsewood history, with Bert Halford, a well-known identity, Tom Schofeild, Len Forbes, Percy Ridge, Alex Thompson and Eddie Mulinder. I remember these guys well and they still have family in our area."
The cup has also been won by Northern Country, representing Makotuku, Matamau and Awariki, in 1997, 1998 and 1999.
"There are plenty of guys who wore the bumble bee colours of yellow and black with pride and put in some great team efforts as well," Olsen said. "Ormondville School also won the challenge cup in 1989 and all these schools turned out a lot of great players over the years and some pretty good Ross Shield players too. They've done our district proud, as have this latest crop of young players."
Mrs Mitchell said the school's coaches, Olsen, Shayne Mullaney, Paul Coppinger, Aaron Mitchell and John Robinson, had put in a huge effort.
"We're also very appreciative of the parents who have coached the teams and the effort and attitude of our young players."