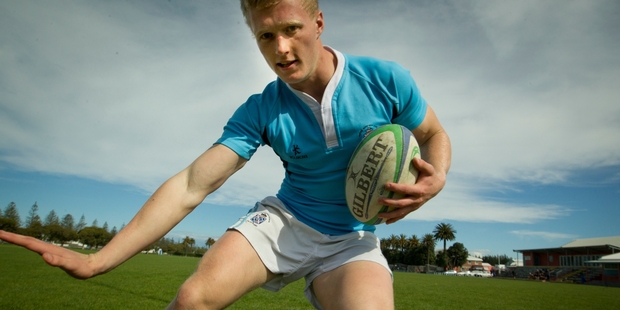 Twelve months ago yours truly was at Napier Boys' High School interviewing Trinity Spooner-Neera.
The 2013 All Blacks Sevens and Hawke's Bay Magpies player had just been selected in the New Zealand Secondary Schools rugby team. During the interview one of his 1st XV teammates, fullback Sam McNicol, walked past.
Once McNicol got out of earshot Spooner-Neera and yours truly said to each other "Sam will be in the New Zealand team next year". Despite missing six weeks of this season with a hamstring injury, McNicol, 17, was told on Sunday he is the only Hawke's Bay player in the national side which assembles in Christchurch on Saturday for a week-long camp before travelling to Sydney the following Friday for games against Fiji, Australia A and Australia Secondary Schools teams.
"Because of my injury I wasn't too sure if I would make it. I was really nervous and it was a big weight off my shoulders when I got the call," McNicol said.
He believed the key to his selection was a player-of-the-match performance for the Hurricanes under-18s during a 46-10 thrashing of their Chiefs counterparts in Taupo back in July. Close behind receiving Sunday's phone call on his list of rugby highlights is the scoring of a two-year contract with the Wellington Lions which he will start next year.
"I was also offered a contract from the Magpies but because I'm going to Victoria University for a three-year geography course I took the Lions one. Basically I've been told I will be in the Lions squad of 34 next year and my club form with Petone will determine if I make the 22 ... it's going to be good learning off all the Super players they have," McNicol said.
From the time McNicol scored 12 tries for the title-winning Napier Ross Shield team at Waipukurau in 2008 he was destined for higher honours. Since then he has played for the Hawke's Bay Ross Shield team as well as the Hawke's Bay under-16s and under-18s.
On the surf lifesaving scene McNicol won a national under-14 beach flags title and finished second in the under-16 beach sprint at the nationals. When in Year 11 McNicol was named in the New Zealand under-17 volleyball squad.
"This year I sacrificed those other sports with the aim of making the New Zealand Schools team. I'm glad to have ticked that box off."
McNicol arrived in Hawke's Bay at the age of 7 with his parents Alan and Julia and three siblings from Manawatu. He regards Christian Cullen, a 60-match All Black from 1996-2002 as his idol.
"Cullen went from Manawatu to Wellington and did well. I will try and emulate what he did," McNicol said.
With tremendous rugby nous which allows him to read a game well, hard-nosed defensive skills and speed (McNicol has been timed at 11.3s for 100m and 5s for 40m) he is well on the way to ticking that goal off.
In addition to thanking his parents for their support over the years McNicol also paid tribute to the various coaches he has had.
"They have all been good buggers," he added.
A delighted Napier Boys' High School principal, Ross Brown, pointed out this was the first time in the school's history it had players selected in the New Zealand Secondary Schools side for three consecutive years. In 2011 No8 Levi Guildford made the team.
"While there is no doubt Sam has talent, he is also a very good leader. We saw that on our North American tour earlier this year where he passed on his expertise to other players and integrated players from the lower grades including D grade at the school into the touring team."
Brown added there could be another "history-making rugby treble" for the school if Waikato take the Ranfurly Shield off Counties-Manukau at Pukekohe on Saturday. If this happens it would mean three members of the school's 2009 1st XV, the No8, halfback and first five-eighth combo, will have tasted Ranfurly Shield glory in the same season.
Gareth Evans, the No8, won it with Otago, first five-eighth Ihaia West won it with the Magpies and halfback Brad Weber is expected to be in the Waikato side on Saturday.