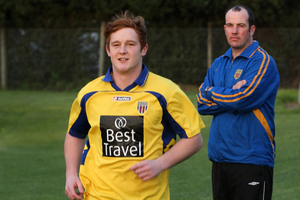 Gisborne Utd v Wanderers
Fed Cup soccer final
They have never savoured the elation of claiming the bragging rights to Central Federation Cup soccer supremacy as a collective.
That is not to say, though, Best Travel Havelock North Wanderers are totally devoid of
that winning feeling in that part of the knockout cup world.
Wanderers striker Bjorn ``BJ'' Christensen, for that matter, has lifted the silverware _ with the Cru Bar Maycenvale United Central League team in 2011 with fellow Havelock veteran Dion Adams at the helm that year as player/coach.
"We beat Havelock North Wanderers in the final when Ritchie Howard was our coach,''
says the 19-year-old of Hastings who switched to the villagers' camp this winter to compete in the ComputerCare Pacific Premiership competition after Maycenvale were demoted from Central League.
Needless to say, Wanderers coach Bruce Barclay, who was playing in the 2011 Fed Cup final and precariously scored from the spot when they lost 4-3 on penalty kicks, regrettably remembers it all too well.
"Yes, BJ was in the Maycenvale-winning side. Just don't
remind me about it,'' Barclay says although the Fed Cup is
relatively in its infancy of about six to seven years.
"In fact, in the last four years we're going to be playing in our third final,'' says
the police officer before Havelock North kick off at midday today at Childers Road Reserve, Gisborne, against upstarts Gisborne United.
"Before losing to Maycenvale we had lost to Gisborne City in the cup final, also on penalty kicks.
"If it goes to another set of penalty kicks on Saturday [today] you know what I'll be thinking.''
While the Wanderers have pipped Team Gisborne (who are not allowed to compete in the Fed Cup because of their composite constitution) 2-1 games in the premiership in winter, Barclay is loath to wear the favourites' tag.
"They are a bit of an unknown quantity so no coach would ever admit that,'' he says of the Gisborne first divisioners who have only two Team Gisborne
players _ midfielder Kieran Venema and striker Corey Adams _ in their line-up.
Seen as the ``killing fields'' for visitors over the years, Childers Road Reserve has a tendency of boosting the stature of host sides on the foundation of some vociferous parochial support.
That's not lost on Barclay who is also mindful of the effects of a 3.5-hour bus ride from here today.
The premiership runners-up need no reminding of what can happen in knockout cup footy, especially when 2013 league champions Cape Physio Taradale
stumbled 4-1 to Wanganui City Reserves at Wembley Stadium in the Fed Cup.
"If we're not going to be sharp about it then we'll get beaten and beaten well, too,'' he says.
The earlier kick-off time is to enable the Wanderers to return in time for their end-of-season prize-giving ceremony at Guthrie Park from 7pm today.
No doubt, the Fed Cup will be the villagers' only silverware from the season and will add some pizzazz to the occasion.
"That'll be nice but you could be talking to a broken man if it comes down to penalties,'' Barclay says with a laugh, adamant the minute the game becomes a stalemate
after added time then it deteriorates into a toss of the coin.
Everyone is fit and healthy so there won't be any excuses there.
With 13 goals to his credit this season, Christensen will have the opportunity to ensure there'll be some warm fuzzies.
The first-year Eastern Institute of Technology electrical engineering
student started playing when he was 4 at the Hibernian Club
where his father, John Gallacher, and mother Delma were members.
"I can't remember why I played soccer but my parents were playing so
I did too,'' he says, although his father also played rugby for Hastings Rugby and Sports.
The former St John's College pupil understandably doesn't like losing but has ``got used to it in Hawke's Bay''.
"I've never played for a top club yet,'' says Christensen, hastening to add the demoted Central League Maycenvale side were ``not a bad team'' considering they had lost
several matches by a goal or two.
"Every game in Gisborne is tough so, hopefully, we should be able to roll them.''
Christensen's talent was on display through the Bay age-group from the 11th grade although that didn't transcend to Central representative level.
"I was always too small. Most guys who got picked were bigger than me.''
A member of the Hawke's Bay United youth academy last summer, Christensen hopes to
some day break into the senior ranks in pursuit of taking his career as far as possible in the beautiful game.
Gisborne United player/coach Dean Wrigley has no doubts Havelock North are ``by far the favourites''.
"I don't think anyone gave us a chance of making it even past the first round,'' Wrigley says.
Remarkably, the hosts have defied the odds in a region that has a first division league with only five campaigners.
They started the season by combining the first and second division leagues of 16 teams before the top five were graded to go to the top level.
Gisborne United won the first division title, by six points, after playing only one round against the other top-four qualifiers.
"We've got a lot of oldies in our team. Four of us are in our forties,''
he says, including himself and Adams' father, Chris, a substitute defender.
"Against Napier City Rovers in Napier we just had guys who played out of their skin [beating them 4-3 in the quarterfinal].''
It's only their second attempt in the Fed Cup after Maycenvale knocked them out in the first round last season.
Ironically, Gisborne United have two players, Aaron Walters and Charlie Priday, who were in the Gisborne City team who beat the Wanderers in the Fed Cup final.
Wrigley believes three-year-old Gisborne United are a balanced outfit who can lift their game in the physicality stakes but can also ``play some footy, too''.
Seasoned campaigner Venema is likely to be on the bench because of injury.
"He'll be a huge loss for us,'' says Wrigley who'll also be on the bench.
Match facts
Gisborne City UTD: Cody Keepa (GK), Jonathan Purcell (CB/capt), Aaron Walters (CB), Theo Poizat (LB), Steve Husband (RB), Aaron Graham (CM), Kieran Higham (CM), Charlie Priday (RW), Jimmy Holden (LW), Corey Adams (CF), Stu Cranswick (CF).
Susbstitutes: Clint Ward, Chris Adams, Kieran Venema, Damon Husband. Dean Wrigley.
Coach: Dean Wrigley.
Havelock North Wannderers: Che Jesson-Bentley, Adam Kockleberg, Kieran Sulikosky, Scott Saurin, Bjorn Christensen, Chris Greatholder, Quentin Hunt, Laurent Larcelet, Andy Jeffs, Dion Adams (c), Keiran Young, Mitch Webber (GK), James Cruickshank, Carl Shackleton, Angus Furher, Dylan Cozens, Fred Haidekker.
Coach: Bruce Barclay.
Ast coach: Duncan Martin.
Road to final
Gisborne Utd:
bt Wangnaui Athletic 3-2.
bt Promotem NCR 4-3 (quarterfinals).
bt Peringa Utd 3-2 (Taranaki team, semifinals).
Wanderers:
bt Gisborne Thistle 3-0.
bt Hastings Boys High 4-2.
bt Levin 3-0 (quarterfinals).
bt Wanganui City Res 2nds 4-1 (semifinals).