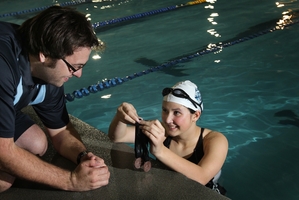 Mention the 2020 Paralympics in Tokyo and the face of Hawke's Bay swimmer Kate McKelvie lights up.
"That's the goal and I'm prepared to put in the work to get there," McKelvie, 13, said during a rest between laps at the Clive Pool last night.
Early indications are it's a realistic goal, too. Despite returning to swimming this year after a two-year break for operations and only linking up with coach Andy McLay in June, McKelvie, who has spina bifida, returned home from the weekend's national secondary schools championships in Hamilton with two bronzes, one in the 50-metres freestyle and another in the 50m backstroke, three personal bests and a fourth in the 100m freestyle.
The points McKelvie recorded counted towards Napier Girls' High School's first win in the girls' section of the third annual State-sponsored nationals which cater for swimmers with disabilities.
"It was a neat experience. I met one of the swimmers I look up to," McKelvie said, referring to Waikato Paralympian Nikita Howarth.
Wellington Paralympian Mary Fisher is the other "big name" who inspires McKelvie.
McKelvie competed in the open age-group 13-18 years multi-disability races. All the swimmers race together and results are determined by their times being compared with world records in their classifications.
McKelvie has an S9 classification for freestyle and backstroke and S8 for breaststroke. She regards freestyle as her favourite stroke and 50m and 100m freestyle as her preferred distances.
The Greendale club swimmer clocked 49.45s for the 50m free, 1m47.56s for the 100m free and 1m01.19s for the 50m backstroke, and said: "Plenty of chocolate before my races was the key."
McLay said: "It's early days but Kate has a world of potential. In the 50-metre free she is 15 seconds off the world-record time but she took five seconds off her previous personal best at the weekend," McLay said.
Paralympic Swimming New Zealand put McLay in touch with McKelvie after she won the top swimmer award at the national Independence Games in Timaru in May and attended a Paralympic Talent Identification Camp in June.
"After my operations during my year seven and eight years, I was hungry to get back into swimming this year. Casts and water don't really mix," McKelvie a year nine student, said.
When little, she learned to swim at the Napier Aquatic Centre under the tuition of Allan Boyd and Jill Williams.
Because swimming is her main sport, she happily puts in six-and-a-half hours' training each week.
The former Tamatea Intermediate School and Porritt School student is full of praise for the time her mother Michelle spends driving her to training from their Napier home.
With the Clive Pool closing for renovations at the end of this term, those drives will become a little longer as McLay's squad will train in Havelock North, Ocean Spa and in school pools until term two next year.