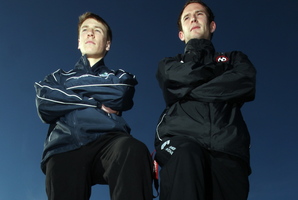 He was too little for rugby so that's a perfectly understandable explanation but why oby
Doyle didn't take to hockey as a 5-year-old isn't quite so clear.
The Cape Physio Taradale soccer goalkeeper umms and aahs before coming up with what he believes is a plausible explanation.
"I don't know what it was. Maybe it had something to do with possibly having no mates there,'' says the 23-year-old Sport Hawke's Bay communities development officer before Taradale lock horns with Promotem Napier City Rovers in the Hawke's Bay Knockout Cup
soccer final at Marewa Park, Napier, from 2pm today.
The battle of the Computercare Pacific Premiership teams is a reload from last season when Taradale won the Bay cup but lost a week later to a rejuvenated Nick
Matheson-captained Blues in the Federation Cup (knockout final).
Instead, Doyle gravitated to soccer in winter as an 8-year-old who had no qualms about playing cricket in summer.
In fact, the Hawke's Bay representative batsman and Taradale Premier cricketer
suspects it is the confidence he's acquired from the summer code that made his transition to goalkeeping a smooth one.
"With my cricket background I had good hand-eye co-ordination,'' says the man who went through myriad Bay and Central age-group soccer grades as a goalkeeper after
playing for Napier South in the Intercity competition.
Primarily Doyle reckons, good hands, feet, agility and levels of concentration are prerequisites for a goalkeeper to make the 18m box their prime real estate.
He often dwells on a shot past him into the net for about five minutes before moving on simply because it doesn't pay to stew on mistakes as the last defender on the paddock who has to contend with denying the opposition a goal after 10 others failed to do so in
front of him.
"It's maybe the challenge of what you do that can make or break a game so it's a sense of responsibility in the team,'' he says.
After returning from Waikato University with a double degree, Doyle has had a dream season this winter.
Taradale have scored 66 goals in the premiership and conceded a dozen.
The Robbie Parker-coached 2013 Premiership champions Taradale were knocked out in the earlier round of the Fed Cup this winter away to Wanganui City Reserves although they travelled with the bare 11 players and had two players sent off during the course of the game.
The Rovers are also out of the Fed Cup so today remains the last piece of silverware for the two sides.
Best Travel Havelock North Wanderers, with coach Bruce Barclay at the helm as coach, are in the final of the Fed Cup which is scheduled to be played away against Gisborne United, subject to Central Football confirmation, next Saturday. Rovers lost 4-3 to Gissy
in the quarterfinals.
Doyle says when he played for his former Taradale High School sides he came across dormant patches on the field because they were better than the oppositions but all that changed when he joined the rep teams.
He joined the rival Rovers club to glean skills from Karl Bauerfiend before former Scottish
international and EPL goalkeeper Jonathan Gould was his ``first real coach''.
The balmy outlook today doesn't bother Taradale, Doyle says, of a team of predominantly former National League and Central League players who can adapt to any given situation.
Taradale beat Hot Shot Napier Marist (premiership) 2-1 in their first cup outing, Wanderers 4-0 in the quarterfinals before crushing first divisioners Havelock North 11-0 last Saturday in the semifinal.
On the other hand, Leslie Taylor personifies the Rovers' youthfulness.
The 18-year-old kitchen hand from Napier believes their rivals are physical and will use their National League and Central League experience to grind the Matt Hastings-coached Blues down.
"We'll need to move the ball a lot more with our youth and hit those gaps,'' says the former Napier Boys' High School student when asked what it'll take to lift the trophy today against such odds.
The teenager has had a taste of higher level footy, albeit coming off the bench three times for the Grant Hastings-coached Central League team.
The striker/winger, who made the Hawke's Bay Sports Today sports pages after a referee refused to allow him to play in the Lotto New Zealand Secondary Schoolboys' annual tournament at Park Island, Napier, in August 2011 with spectacles, has scored half a dozen goals for his premiership team.
Wearing contact lenses since then after a Napier optometrist came to his aid, Taylor harbours hopes of playing for the Chris Greatholder-coached Kinetic Electrical Hawke's Bay United team some day, too.
"I want to go beyond, as high as I can. It'll be tough but who knows, anything can happen,'' says the ambidextrous player who prefers his right.
Ironically he comes from a rugby background with grandfather Bruce Taylor, of Napier, having represented the Wellington Lions in his heyday.
Like Doyle, Leslie was mindful of his physical limitations and it helped that his grandpa recognised his soccer prowess.
"My grandfather is my inspiration,'' says the youngster who lives with his girlfriend in
Taradale.
The Rovers have beaten Hastings Rovers (div one) 10-1, beat Cru Bar Maycenvale United
(prems) 4-0 in the quarterfinals and walloped Taradale Vikings 9-2 in the semifinals last Saturday.