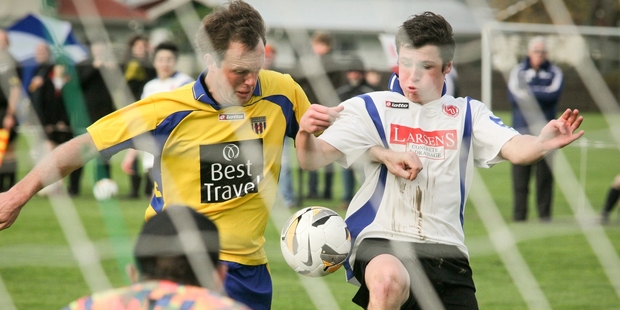 The Hawke's Bay flag will continue to fly in the Federation Cup final this Saturday after a hard-fought win in Napier.
Best Travel Havelock North Wanderers gave up their home-ground advantage to beat giant-killers Wanganui City Reserves 4-1 at Marewa Park No 2, after Central Football moved the game from Guthrie Park because of persistent rain.
Locked 1-1 at halftime and midway through the next spell, it seemed the visitors were in control, although the villagers had made their intentions clear with a goal in the opening few minutes to Englishman Scott Saurin.
Zane Robinson equalised in the 31st minute as Wanganui played a crisp passing game but were guilty of taking too many touches in the final third.
Saurin broke the deadlock and added another for his hat-trick, before Hawke's Bay United coach Chris Greatholder, at midfield, put the Steve Welch-coached Wanganui out of their misery.
Wanganui had sent ComputerCare Pacific Premiership champions Cape Physio Taradale out of the Fed Cup a few weeks earlier at Wembley Park.
The Wanderers now play the final against Gisborne United, who beat Peringa (Taranaki) 3-2 at the Dannevirke Showgrounds on Saturday.
Havelock North coach Bruce Barclay said they deserved to be in the Fed Cup final after Taradale had the better of them in the premiership.
Barclay said while they made hard work of it, he was pleased his troops lifted their game at the business end.
"I'm a firm believer of momentum and self-belief. It's more mental momentum than psychological," he said, adding that when they went up 2-1 the visitors' body language spoke volumes, so they drove the nails home.
"It was very deflating for them to come back."
Saurin, 33, a former County level player from Cotswolds in Gloucestershire, has scored a gob-smacking 65 goals in myriad grades this winter.
The self-employed web designer has scored five goals for the Wanderers in three games, although he predominantly played for the division two Lads and Dads team.
While Barclay has tried to entice him to stay in the big league, Saurin may end up managing and playing for the first-division team next season.
"I'm getting too old for it. My body doesn't last well," he said after strapping up his knee on Saturday following an injury the previous Saturday.
For the record, there's close to a dozen hattricks in his goal-fest but he suspects there could be more, so good luck to the prizegiving organisers.
Havelock North 4 (Scott Saurin hat-trick, Chris Greatholder) Wanganui City Res 1 (Zane Robinson). HT: 1-1.
HB KO Cup
Taradale 11 H Nth Div One 0
No fairytale ending in this semifinal game at Taradale Park as the premiership champions thumped them at will.
Up 6-0 at halftime, the Robbie Parker-coached hosts finished 11-0 winners to show why the gulf between divisions is warranted.
Parker said they went into the game treating it like any other top premiership clash.
"We got to a good start and carried on so credit to the guys for playing it at pace."
Parker felt his men lost a little patience in the second spell after they were unflappable in the first with goals.
No doubt they expect a good ding-dong from Promotem Napier City Rovers this Saturday in the final after the Blues pummelled Taradale Vikings at Park Island, Napier, in the other semifinal.
Taradale 11 (own goal, Dean Johnston 5, Brendan Adema, Mike Daly, Perry Cotton, Stu James, Nick Demaine) Havelock Nth Div One 0. HT: 6-0.
Rovers 9 Vikings 2
The Matt Hastings-coached Rovers rained on the parade of the Maroons when they beat first divisioners Taradale Vikings to quash any hopes of a club derby final.
The HB KO Cup reigning champions, who also beat Cape Physio Taradale last winter in the final, were up 4-1 at the breather and were relentless until the final whistle.
Said Vikings coach Mike Baldwin: "They were too fit, too fast and just too good for us. They attacked us all day."
Hastings said the Rovers would consider adding a few players from their Central League squad, which his father Grant Hastings coached to their last game of the season against Lower Hutt City in Wellington on Saturday.
"About 75 per cent of my squad have had a chance to play at Central League level so they know us so it's good to have that continuity from the start," Matt Hastings said of something Cape Physio coach Parker had alluded to.
Having let their feet off Dale's throat in the league this winter, Hastings said they were back to training from Tuesday to make amends.
Vikings coach Baldwin said despite the flogging, they enjoyed the game and their season.
"We're stoked even though we would have liked to have gone a little further.
"We'll take it on the chin and come back for more next year."
Rovers 9 (Mickey Nixon hat-trick, Nick Matheson, Reece Brew, Sunny Raj, Reiner Bauerfeind, Bradley Perks, Liam Simmons) Vikings 2 (own goal, Tony Parkinson). HT: 4-1.