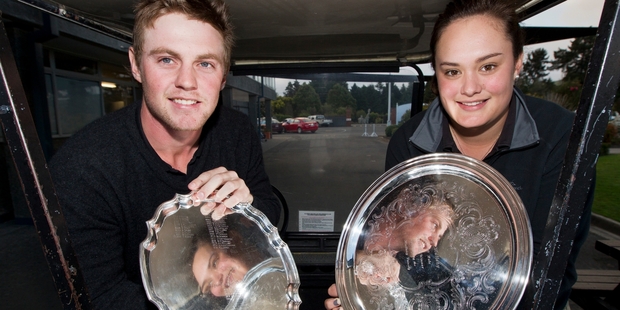 You can never have enough trophies - just ask Manawatu amateur Joshua Munn after he claimed his maiden Kapi Tareha crown in Napier yesterday.
"It [the trophy cabinet at home] is getting pretty full from the junior ones, but I definitely have them in double figures - more than 10," the 22-year-old from Palmerston North said after winning the men's 72-hole gross salver of the 59th annual tournament at the Napier Golf Club.
He carded a par-4 285 (71,72, 71, 71) to pip final-day leader Brad Hayward, of New Plymouth, by a stroke.
In fact, with a golfing mate, Tyler Hodge, of Palmy, etching his name on the same silverware Munn wanted nothing more than to emulate his feat.
"Tyler won it here last year and Brad Hayward's a good mate of mine, too, so it was great to win it," said the minus-two handicapper.
Munn felt the weather yesterday was okay, although Saturday's on-and-off rain made life difficult.
"Not that it mattered much because I'm used to 40k winds at home and it's always p***ing down there."
Behind Hayward was Thomas Brockelsby, of Hamilton, who carded 290 while former professional-cum-amateur Richard Squire, of Ongaonga, was fourth on 294.
Munn said he would return next year provided he didn't go back to Europe and the US to test his mettle against other quality players.
Kate Chadwick, who shared the crown last year in the women's section, had the satisfaction of keeping the Audrey Mullany Salver to herself yesterday.
The 21-year-old nurse carded 298 (77, 74, 74, 73) to overwhelm Tessa McDonald, of Gisborne Park, by 20 strokes.
"She shot a 74 in the first round and I was three behind her but I shot 74 in the afternoon and she shot 84," Chadwick said, believing the advantage was definitely hers at her home course on Waiohiki on a field of nine.
She couldn't understand why more women, especially from Palmy and Wellington, weren't there, considering the men's field of 75.
For the record, the Chadwick whanau shadowed her moves rather than watch on TV the Magpies wrest the Ranfurly Shield off Otago last night in Dunedin.