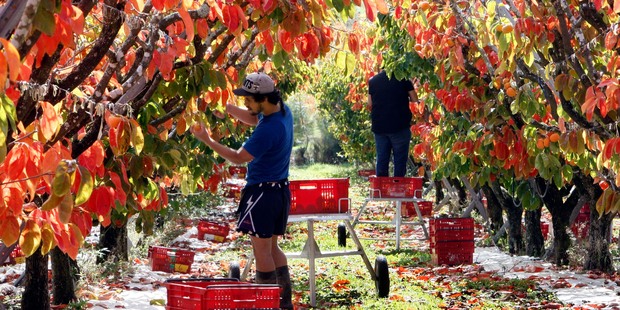 A new tertiary study initiative with the support of a local produce company owner is helping end the labour shortage in Hawke's Bay's horticulture industry.
The Eastern Institute of Technology (EIT), Work and Income and local iwi have joined JM Bostock owner John Bostock to help provide sustainable and permanent employment for those on an unemployment benefit.
The sustainable fruit production course is a level three module combining theory and practical teaching in the industry.
Mr Bostock said the course is a high quality-training scheme presenting job prospects for graduates.
"The key for us is getting these trainees into full time employment rather than just seasonal jobs. We are helping up-skill them, so they can easily apply what they learn to a real job in the orchard."
Fourteen students completed the course in November and all found work.
Jason Cunningham and his two sons graduated from the course last year and found permanent employment with JM Bostock.
"We have job security now, so it takes the stress away. I used to get really low when I knew the seasonal work was coming to an end and I had to go back on the dole. But this course now gives me more purpose in life and real direction."
Graduate Bill Neilson, who also works for JM Bostock, said the course has uncovered new opportunities for him.
"Two years ago, I was a dole bludger, sitting on the couch and now I'm out in the sun picking apples. I look forward to getting up each day now. I'm setting a good example to my children."
EIT Horticulture tutor Erin Simpson said a classroom on an orchard helps students with a more practical experience.
"Industry buy-in has been key to this course taking off. It ensures that we are providing programmes to meet industry needs." Students start with pruning, pest and disease control, tractor driving, orchard machinery usage, irrigation, maintenance, and then thinning.
At the end of the training they have the right practical skills to get a job.
"The timing is ideal because when they finish the course in November there are plenty of jobs out there for them."
Mr Bostock said he was encouraging growers support the sustainable fruit production programme.
"If we all get together and each do a little bit we can make a big difference.
"Unemployment creates social challenges in Hawke's Bay, so if we are all paddling in the same direction it will help."
Inaugural graduates were treated to a special graduation ceremony at Te Aranga Marae in Flaxmere.
Applications are open for this industry-focused course now. The next 20-week winter course starts in March.