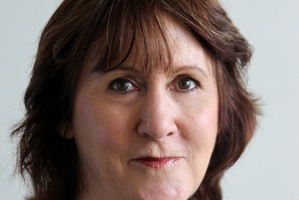 I have met some incredible people this week.
On Tuesday night I went along to the Zonta Club of Hawke's Bay Area Inc Catherine Charman Award Dinner.
What is a Zonta Club, I hear you ask? Well, it is an international organisation of women who work in all sorts of ways to raise the status of women worldwide. Founded in 1919, the group's motto is Advancing the Status of Women Worldwide.
They are not a bra-burning, man-hating group of feminists. Far from it. These women are simply passionate about helping other women to live better lives.
Each year the Hawke's Bay club holds an award that further advances the status of women. The award alternates biennially between a Young Women of Potential (odd years) and Catherine Charman Award (even years). Each award targets a different group of women from Hawke's Bay.
Applicants for Tuesday's award had to be a woman over the age of 30 years who needed assistance for further study or to train in her chosen career.
Guest speaker of the night was Paula Bennett and I was really looking forward to hearing her talk but first was the most important part of the night - the award winners.
Dena Hale received the Catherine Charman Memorial Award of $2000 and the runner-up was Glenda Te Rito, who received the NZ Federation of Graduate Women - Hawke's Bay - cash grant of $500.
Resounding applause and singing followed the announcement of the winners.
The grants will help with the women's education fees for their post-graduate degrees.
Glenda is undertaking a one-year Masters degree in Teaching English to speakers of other languages extramurally, from University of Auckland, while Dena is undertaking post-graduate papers toward a Masters Degree in Maori Visual Arts, through Massey University.
They fit this around their families and work. Well done.
I'm pretty sure the reason Paula Bennett (Minister for Social Development, Minister of Local Government and Associate Minister of Housing) was chosen to speak at the Zonta Awards was because she knows what it's like to pick yourself up from being down and out and make a name for yourself.
I knew Ms Bennett had been a teenage mother, had been on a benefit and had fought to get where she is today.
She's not the most popular MP (actually I don't think there is such a thing as a popular MP) - I've heard people say some pretty nasty things about her.
However, after listening to her talk, I have to say I'm a bit of a fan. She didn't talk politics, she simply told a rapt audience about her life as a teen mother and her determination to make life better for herself and her family.
She was really funny, cracking jokes and keeping the audience well and truly engaged. I heard someone say afterwards that if she ever gave up politics she could be a comedian.
I really enjoyed it; in fact I loved the entire evening.
Zonta Hawke's Bay's goals for 2014-15 are to help raise funds for the Sophie Elliot Foundation (the foundation's aims are to prevent violence against women by raising awareness about the signs of abuse in dating relationships), support local refuges, support the teen parents unit and the Wahine Toa programme, make and supply free of charge special breast cancer cushions, raise funds for local educational scholarships and to support Zonta's national and international projects.
That's pretty impressive. Remember, this is all done by a group of volunteer women. The group is looking to increase membership, so if you are interested, phone 873 4132 or e-mail hawkesbay@zonta.org.nz
So that was Tuesday night. On Wednesday night I went along to the inaugural Pride of NZ Awards where the winners of the lower North Island region were announced.
I was absolutely humbled by these people who think nothing of putting their lives on the line for others, putting themselves in danger for others, or giving up their time for others. I don't mean just an hour here and there - I mean hours out of their lives to help other people.
All the finalists were amazing people and you could tell they certainly didn't do what they did for the glory of it.
They did it because "It's just a part of who we are". I salute you all.
Linda Hall is assistant editor at Hawke's Bay Today.