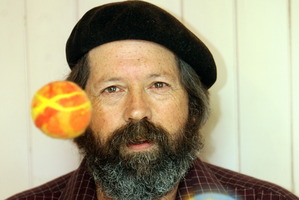 It seems to have escaped the brainless wonders masquerading as government ministers that hiding behind the security blanket of being a Five Eyes spy network partner is not such a good look when a significant proportion of the world's nations are almost literally up in arms about being spied on by it.
The staggering ineptitude of Defence Minister Jonathan Coleman on the subject in the US this week is a definitive case in point. It's difficult to know whether to laugh incredulously or be chilled witless by his thoughtless insulting of half our trading partners when attempting to diminish the US-is-spying-on-everyone debacle with sycophantic "humour".
I doubt German Chancellor Angela Merkel (among 35 other leaders) was amused by Mr Coleman's flippant "we don't care who spies on us, we say so little worth hearing we put spies to sleep" remarks. Having grown up in East Germany under the all-pervasive Stasi regime, Merkel will know the Waihopai spy base is part of the network responsible for monitoring her phone for the past decade.
Since this Government's attitude is open slather to abuse of privacy, I'm sure all interceptions are diligently passed on. Bear in mind the recently amended legislation to allow our own citizens to be snooped on carte blanche.
If Prime Minister John Key doesn't believe, or doesn't care, his phone is tapped by the US, that merely points up the true nature of the Nats now in power - and where their allegiance lies. Mr Coleman's obsequious lap-dog act nails that home. It's the equivalent of the snotty nerd in the playground standing behind the hulking bully while jeering the other kids for not having the smarts to be part of his protection racket.
And this is a man who represents us to the world.
Unfortunately, worse is to come, because the flipside to Edward Snowden's alarming revelations is the conservative reaction. That, in short, is to revoke - or at least heavily restrict - freedom of speech.
Here's General Keith Alexander, head of the National Security Agency: "It's wrong that newspaper reporters have all these [leaked] documents. We ought to come up with a way of stopping it."
Or a high-ranking official from the Chicago Police Department, who told an international law enforcement conference his agency had been working with a security chief at Facebook to block users from the site "if it is determined they have posted what is deemed criminal content".
A hot topic at that conference was "geofencing": the ability to remotely turn off a device if it was found to be being used, for example, to organise a protest. Apple has patented such an app.
Combine these initiatives with the secretive "back-door" agreements for spies to access the world's major social media and cloud servers, and you are three steps closer to Orwell's thought police made real.
It's worth noting that leaders like Ms Merkel - despite her background - become righteous with anger only on news their phones are targeted.
Messrs Key and Coleman and the other muppets in government may delude themselves and pretend they're not worth listening in on (which, on the evidence, may well be true), but the sheer scale of abuse of privacy - and the dark purposes the data may be put to - should have even National Party members worried.
As for having nothing to hide, if Mr Coleman's so happy with transparency, let's see the text of the Trans-Pacific Partnership Agreement. Oh, so they do have secrets ...
That's the right of it.
Bruce Bisset is a freelance writer and poet.