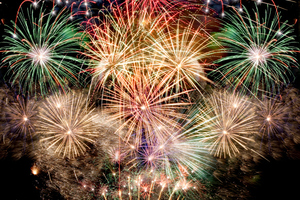 I Read an interesting letter the other day about the "nanny" state of affairs we live in. The writer was taking part in a survey about the rights and wrongs, the should we or shouldn't we, the leave it as it is or ban it issue of fireworks.
The writer bemoaned a possible loss of yet another colourful diversion from the straightness of life - a time when people could light fuses and make some spectacular sights and sounds.
Only once a year and it doesn't hurt anybody, they wrote, before lamenting that any future bans or tighter regulations regarding the sale of fireworks would be "typical" of the nanny state we had become.
I could see their point as I'm all for a spot of visual and audio entertainment when it is staged in an organised manner.
But it was the parting shots of this writer's argument to retain things that go boom in the night which caught my attention.
They bemoaned that it all came down to a minority of party-poopers, who wanted to ruin everything for the majority who wanted to have a bit of fun and some sparked-up fiery excitement for at least one night of their lives - just like in the good old days.
They made a very sound point about the minority/majority aspect of the fireworks issue.
Because while the majority of people who buy a modest selection of fireworks for an hour's fun use them appropriately and cautiously the minority are the ones who wreck everything.
For as has happened for the past many years, even after the now irrelevant Guy Fawkes night of November 5 the loud explosions will continue to echo through the landscape for the following couple of months.
On otherwise peaceful evenings and right into what could become a very dry landscape if the summer heat pours on the way it did last year.
Fireworks are banned pretty well right across Australia and in several European countries special licences are required to purchase and use them.
For they have become louder and more explosive, and even worse, I suspect people who can ill afford to burn $100 will indulge themselves ... for months to come.
If, in a perfect world, they were less inclined toward mimicking landmines and were all used on the designated night, then maybe there is a place for them.
But under the loose legislation of today they are ripe for the minority to rule the majority.