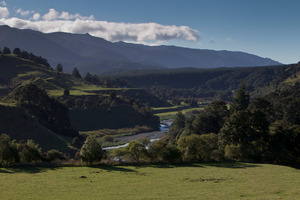 Interesting how quickly a positive outcome can be portrayed as negative if you're intent on scuppering any process for change, isn't it? And vice versa, for those trying to defend unsustainable practice.
We've had a grab-bag of both sorts of "manufactured truth" of late, not least concerning the election of four new regional councillors who dared to tar themselves with a common-issue brush.
The fear-mongering that saw busloads of Central Hawke's Bay farmers crowd the first meeting of the council on the pretext of objecting to one of the newbies taking the chair might have made some sense if the "Growers Action Group faction" had had the numbers, and had unilaterally declared themselves against the Ruataniwha dam. Neither was true.
Still, I imagine the CHB-ites came away satisfied they provided backbone for the council to push on with that particular water storage scheme. Regardless of whether it's a good idea; regardless of whether other more established growing areas will benefit (which they won't).
The business of business - and let's face it, anything costing about $600 million all up is indubitably a business - demands that growth and profit supersede any other consideration. That's the mantra our civilisation has pulled itself along on since time immemorial; who would gainsay it?
See how easy it is to turn the tables?
What that cosy delusion overlooks is, first, that the four GAG-backed councillors have just been elected by a majority of their citizens - a significant positive, in other words. Moreover one which by its nature clearly mandated their call for change in the way the HBRC is run, and what it decides.
At the least, then, you might imagine that would give the council pause to consider whether in fact the scheme as proposed is the most urgent priority for the whole region, or whether other projects might prove more worthy.
But, on the face of it, no. Business as usual, by a one-vote margin, and damn the torpedoes.
That this stance inherently ignores reviewing our regional resources, developed or not, in terms of environmental rather than monetary value is another case of a negative (intensification and pollution) being allowed to trump a positive (long-term health and wellbeing).
Water quality, use, and provision is a fractious issue, but by no means the only issue to get this once-over-lightly wealth-is-the-driver treatment. Oil and gas exploration - and presumed eventual production - is another biggie in that bag.
Take the recent symposium on the subject in Hastings. Unless you were there, or have sought out personal commentaries, you'd be forgiven for thinking that while there were some concerns, in general everyone agreed it would be a godsend to strike crude.
Far from it. For example Jan Wright, the Parliamentary Commissioner for the Environment, listed five key concerns: seismic activity, the risk to aquifers, the industry's water requirements, waste disposal, and indeed whether fossil fuel extraction was still appropriate.
The latter is arguably a political question, but the others directly impact on the environment of the Bay. Ms Wright's comments made it clear she thought none of those factors had yet been satisfactorily addressed.
Remember, "environment" means everything we already have, very much including the multi-billion-dollar agricultural sector.
The same concerns surround the Ruataniwha scheme, with a similar lack of transparency. You don't jump off a cliff without a parachute, unless you're suicidal.
I wouldn't mind if they only killed themselves. To take the rest of us with them - there's a real negative. That's the right of it.
Bruce Bisset is a freelance writer and poet.