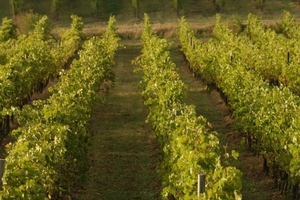 Some say there's a natural symbiosis between poetry and wine.
If that needs qualification, look no further than the poet James K. Baxter and his contemporaries, including the hopeless drunk and satirist, Denis Glover.
Closer to home, look no further than Te Mata Estate.
The winery's patronage of poetry, namely that of underwriting New Zealand's Poet Laureateship, was one of the province's understated cultural coups.
From 1996 to 2007, the winery drove the award; honouring a chosen poet for a two-year tenure to recognise an outstanding contribution to poetry. Laureates picked up a fist of the folding stuff and a stipend of the estate's acclaimed product. Welsh poet Dylan Thomas would have jumped at the chance.
Needless to say, I was saddened when in August 2007 the National Library of New Zealand took over the award and, in doing so, benignly stole this region's direct link to the most coveted poetry honour in the land.
But the link between wine and poetry was never in peril - thanks primarily to the enduring Hawke's Bay Live Poets' Society, which continues to galvanise the proud tradition.
In fact if I had to single out the highlight of my tenure as arts reporter, it would be a freezing night in 2009 with the live poets' society. A doctor-poet by the name of Glen Colquhoun turned up as guest reader and stole the room with an impassioned, powerful rendering of his work.
Such stealth proved what Bill Manhire said when he claimed poetry was New Zealand's "best-kept secret".
Colquhoun's performance came at the end of an hour or two of original poetry from locals. Such was the calibre of their work that he told those in attendance it was "the best open-mic" he'd been privy to.
High praise. But more to the point, well deserved.
Next month's Hawke's Bay Poetry conference is another coup, with names such as current poet laureate Vincent O'Sullivan, Fiona Farrell and Harry Ricketts set to descend on the province.
Thinking on those names, I've often wondered why this province has never produced any "big guns" of the literati. No Manhire, Curnow, Tuwhare, Edmond, Stead, Baxter, Brasch et al. Many of the country's poetic greats were - and are - from the provinces, yet I can think of no one in the existing Kiwi literary canon (if you subscribe to such a notion) who hails from this region.
I sense a Hawke's Bay literary luminary-in-the-making is not far off.
While this week's Man Booker Prize winner Eleanor Catton may not have won any Te Mata Estate Coleraine, (instead picking up $95,000) she did show us literary "big guns" can spring from anywhere.