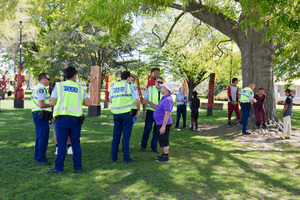 It amazes me that it is illegal to leave children under 14 unsupervised at home yet there is no law against them roaming the streets.
It really is quite bizarre when you think about it. Home is the safest place for children and I'm absolutely not saying that children should be left home alone.
I agree with the law. But surely if they are too young to be left at home unsupervised they are certainly too young to be free to go into the centre of town.
I wrote an editorial last week about parents and caregivers taking responsibly for their children's whereabouts during the school holidays. The very next day there was a brawl in front of the Hastings Library. Most of those involved were under 14.
These kids should have all been taken home and if there was nobody home doesn't that mean parents or caregivers should be prosecuted or at least warned for leaving minors unsupervised.
I don't actually understand why all these kids want to congregate in town? Why don't they meet their mates at the park and kick a ball around?
Why do they want to sit about in the middle of town? I remember wanting to go to town on a Friday night when I was about 14 or 15 and no way was I allowed.
My world during the school holidays was home, or my cousin's place around the corner. Sometimes we went to Windsor Park or, if we were lucky, the pictures.
On the weekends I played softball at Akina Park on Saturday in summer and netball at Windsor Park in winter.
But the best holidays were the six weeks at Christmas when we packed up and went to Haumoana Beach camping for six weeks.
Mum and Dad had a tent with floorboards (I think they were pallets), carpet, a real bed, a fridge and a stove. We kids had a separate tent, a canvas sheet on the ground and camp stretchers. We loved it.
Both my nanas, my grandfather, aunts, uncles and cousins all camped at Haumoana year after year.
We swum in the sea and the lagoon, we walked along the stop banks, we made huts in the trees, we watched dad row out in a wooden boat and then "helped" haul in the nets.
We picked up the flopping blowfish (that's what I remember calling them, not sure if that's correct) put them in buckets and walked around with them until they died.
It's where I learned to knit and it's also where my oldest brother met his wife.
I have many memories of Haumoana Beach and the idyllic summers I spent there. I would no more have thought to graffiti the cook house than I would fly to the moon. In fact I don't think I'd ever heard of graffiti back then and no one walked past houses and vandalised the letterboxes just for the hell of it.
Unfortunately the camping ground closed down in the early 70s.
I asked my daughter if she remembered what she did in the school holidays. Her reply: "No. It must have been pretty boring."
It was I'm afraid. We went camping at Porangahau a few times but mostly it was playing at home or going to friends' places. They were not allowed to go into town and hang around, not that they ever wanted to.
So maybe, just maybe, if the underage kids hanging around town were taken home and parents held accountable every time they caused trouble it might help with the push to claim back our streets.
Linda Hall is assistant editor at Hawke's Bay Today.