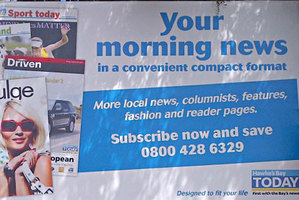 News this week that the Government through its Major Events Development Fund has decided to deposit $530,000 into the Hawke's Bay Tremains Art Deco Weekend over the next two years has effectively underlined what most of us around these parts have known for a time now.
That the event has gone global. An event which now draws people from the other side of the planet - and lots of them.
This half-million-dollar boost, which will finance increased promotion of the great "what-ho" event to major international tourism and business markets, is as good as a piece of good news can get. This thing called Art Deco has become a giant.
In 1931 Hawke's Bay got unlucky and was shattered by a destructive earthquake. The quake and resulting fires tore through Napier's retail and business heart, which had to be rebuilt.
We know the rest - we know how it goes.
It was built in the relatively standard issue architecture of the era, and apart from some misguided development vandalism in the 70s has stayed pretty well intact.
I grew up in Napier and, like most, never saw the wood for the trees. They were buildings we wandered into to get the weekly comics, go to the pictures, get a haircut or whatever.
But today, I look at the remarkable landscape and can understand why people from distant places go all weak at the forefinger (it's the one that takes the photographs).
The first Art Deco walks many years ago involved a dozen or so locals. Today, in the height of summer, the participants number in the hundreds - every day.
Consider what likely appealed at the top of the list for the cruise lines looking for destinations downunder. I think the pretty buildings may have had a lot to do with it.
The whole landscape of the city's Art Deco (and associated design) has become well managed and well presented.
The Art Deco centre at the top of Tennyson St is an attraction in itself. It is all very professional, yet retains that unique Kiwi approachability and lightness to it all.
It is a valuable tourism ingredient for Hawke's Bay and now, the tourism and events team within central government has rightly (you could say finally) recognised its value to the country as a whole.
People who come to the Bay for the Art Deco experience will almost certainly call in somewhere else while in the country.
And they will return home and spread the word.
One couple (from the UK) told me several years ago that the big summer Deco weekend was like stepping into the film Brigadoon - into a past that for a short time every year came alive again.
Receiving the governmental nod in terms of a six-figure boost is effectively a reward for a job well done - by all those who embraced and embellished Art Deco from day one.