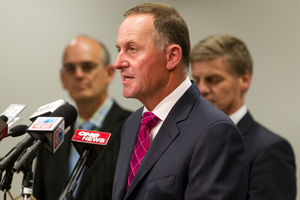 Despite the certainty that a significant proportion of global climate change is being driven by man-made factors, sceptics continue to at times dominate debate, derailing the impetus needed to begin to address how to deal with it.
Arguably mainstream media is finally changing its attitude toward the nay-sayers, with less space devoted to their rants and more to analysis of the real problems, but worryingly public perception of the issue has been severely damaged.
Thanks partly to the efforts of tragi-comic fools like the so-called "Lord Monckton" - widely reputed to be comic Sasha Baron Cohen in disguise - it's estimated only about 42 per cent of Americans, and a similar number of Britons, believe in human-induced climate change. That's a distinct drop, more than 10 per cent, from a decade ago.
That's particularly significant because, just when the world's leaders appear to be waking up to the need for genuine redress, their electorates are signalling a lack of support for doing so.
Resulting in a thorny political conundrum.
Thankfully many leaders, from all parts of the political spectrum, now appear willing to at least carefully discount public opinion in favour of the search for solutions. In this, they are strongly aided, or should that be prompted, by the UN's IPCC process and the almost-unanimous voice of the world's scientific community.
The latest IPCC report contains an agreed consensus that man-made impacts are "95 per cent certain", which is the scientific equivalent of admitting the force of gravity exists.
It is dangerous folly to argue against that.
But just in case you're inclined to, let's put it another way by quoting one of my favourite internet memes.
"Which is more likely: That local activists are using their meagre resources to fund a gigantic conspiracy of the world's scientists to destroy business or that global oil companies are using their obscene profits to sell us lies to protect their rapacious practices?"
Here John Key and co are fully subscribed to the lies, with climate research slashed while oil exploration chugs full steam ahead, regardless that one of the identified curbs to climate change requires we leave the remaining fossil fuels in the ground.
If New Zealand was at all serious about the problem Key would have been pounding the lectern at the UN for Russia to release the Arctic oil protesters (including one Kiwi) instead of bleating about wanting a Security Council seat.
Meanwhile in myriad diverse ways, from algae-based jet fuel to capturing carbon-monoxide for power generation to energy-saving filtration membranes, clean-tech start-ups in New Zealand are crying out for funding so they can deliver the "smart green" economic answers this crisis demands.
Relying on No8 wire tinkering to secure our place at the forefront of 21st century business just doesn't cut it.
And the research station on Hawaii's Mauna Loa has noted atmospheric particulate concentrations breaking the 400ppm mark. Professor Ralph Keeling, who oversees the measurements, observed: "It is symbolic, a point to pause and think about where we have been and where we are going. It's like turning 50: It's a wake-up to what has been building up in front of us all along."
Yes; all along. All along the watchtower, the princes kept their view, while all the wise men came and went, and were not listened to.
Ironic that now some of the big movers and shakers are listening, and (slowly) responding, here in the antipodes we have outright denier Tony Abbott and corporate puppet John Key blissfully still following a dead-end path. Funny, I had the idea we were a tad smarter than the rest. Guess that's another myth busted.
That's the right of it.
Bruce Bisset is a freelance writer and poet.