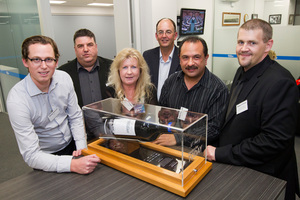 On Tuesday night, we had a wonderful party.
It was to celebrate moving into our new building at 301 Heretaunga St East and we invited civic and business leaders, clients and advertisers to join us for drinks and a few nibbles.
The event was well attended with Hastings Mayor Lawrence Yule and Central Hawke's Bay Mayor Peter Butler in attendance as were APN Regional Newspapers' group general manager Chris Jagusch; group editor and product manager of APN Regional Newspapers Laura Franklin and APN Properties manager Doug Peacocke.
It was good to see the team from Wallace Developments and Stead Construction, who did a great job in rebuilding the old Power Board building into our flash new offices.
The evening was a great success with catering by Kent Baddeley and his team from 1024 restaurant. Our general manager, Russell Broughton, summed it up best when he said he was thrilled the staff were now in new, modern offices.
It certainly has been a well-organised move and credit must go to Russell and the team he selected to help with the move. All details were taken care of and we were all able to get straight in and produce the paper.
One of the highlights of the evening was the wonderful gift Hawke's Bay Today received from Willy Ransfield and Natalie Rogers of Design Studio, who did all the signwriting for our building and the frosting for our windows. Aside from doing a really good job, they also gave us a uniquely designed and manufactured oversized champagne bottle, fully encased in glass.
What a way to start a new era.