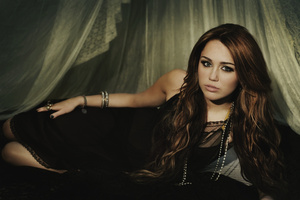 Who listened in class when we all got told that if you can't say anything nice about someone, say nothing at all?
Obviously not me, as I am about to demonstrate.
As I fly home after an exhausting visit to 10 counties across three continents in less than a month, there are so many wonderful things I could and perhaps should share instead of my views on Miley Cyrus.
But firstly, no one likes hearing about other people's fabulous holidays and, secondly, the words just seem to flow so much more fluidly when I'm having a rant instead of waxing lyrical about peaceful shrines in central-city Tokyo parks.
Anyone who has recently observed the dwindling wardrobe chosen by Cyrus will understand how determined she is to shed her virginal alter ego Hannah Montana and morph from pop princess into pop tart.
As I watched her latest chart topper, Wrecking Ball, in the transit lounge, I could only conclude: job done.
There is little wonder the song is a melancholy moan about being dumped. Most nice boys tend to like their ladies with cool things like hair, self respect ... and clothes. At least in public anyway.
But there is more to my diatribe than just Miley. My beef is with the fact she and others like her represent and promote a dramatic and rapid slide in modesty, style and self-respect among young women.
The reality of how far we've fallen hit me as we drove across Europe with only the radio to listen to.
While the rest of us enjoyed democracy and Total Eclipse of the Heart, those in the former Eastern Bloc are in catch-up mode, so the journey gave me a chance to truly appreciate just how sweet and innocent the lyrics of only a few years ago really were.
As we crossed the Austrian border to LeAnn Rimes singing Can't fight the Moonlight, my heart hurt for all the parents of teenage girls.
Rimes rocked to number one by hitching "starlight" with "so right" and was fully clothed when she did it.
Singing about there being "no escape from love once a gentle breeze weaves its spell upon your heart" was cool circa 2000. Strange but true.
Fast forward to 2013 and country crooners have been replaced by a young woman who takes off all her clothes (yes, all) and has invented a new word to accompany a "dance" move that involves gyrating her bottom doggie-style in the crotch of passing men. Stylie, Miley.
As Hannah Montana with her happy smile and long shiny hair, she sang to her adoring and impressionable young fans about world peace and being a good BFF.
And yet only a few short years later and that same mid-teen fan base is now being exposed (excuse the pun) to lyrics about taking lines in the bathroom, dancing like it's a strip club and wondering who is going to "get some".
And forget what people think while you're at it because apparently it's only God who can judge us - which is enough to turn anyone religious simply in the hope that he might ... and soon.
My only hope is that if I eventually decide to have teenage girls of my own (a daunting prospect for obvious reasons), nudity and profanity will be so "yesterday" they'll all be hitting the dance floor for a round of the Gay Gordon rocking buttoned-up long-sleeve shirts and floor-length skirts.