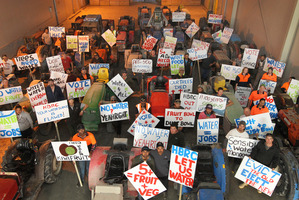 Today could be a significant day in the buildup to the local elections next month.
A tractor convoy of angry growers, part of the Growers Action Group (GAG), will travel across Hastings to protest what they believe is the shoddy treatment they have received from the Hawke's Bay Regional Council. They are calling for all councillors to be replaced. They are upset because they say a total irrigation ban during the recent drought put millions of dollars' worth of crops and hundreds of jobs at risk.
This action is significant because it brings rumbling discontent among growers to a head. It has been interesting watching this grow during the past few weeks and I think it has caught some sitting councillors by surprise.
Obviously, the anger and resentment is being used by candidates who want to get on to the council. This is fair enough because politics is a robust process. If they are elected, who knows? They may find themselves in similar positions in three years' time.
Whether or not people sympathise with the growers, their protest should not be summarily dismissed. When a group of people is prepared to take this sort of action to make a point, we all need to take notice. The action brought by GAG could well be a game-changer and one should not be surprised if some councillors don't make it back.
This is what democracy is all about. Councillors may say they have listened to the growers, but if the perception is that they have not, then they may find their tenure at the council table abruptly terminated.
By Saturday, October 12, the people will have spoken and then we will know which candidates have listened.